A Guide to PMS Systems Hotels, How They Work, and Why They Matter
Hotels have several departments running different operations. So, what's the best way to keep tabs on everything that's been going on in your establishment? Utilizing unified property management systems.
Property management systems, often called PMS systems, are ways for hotels to boost customer experience, improve operations, and more. These are just a few of the reasons why hotels are adopting PMS systems, pushing the current market value of these systems to over $3 billion.
Implementing these systems may just be the key to ensuring property success. Discover everything you must know in this guide. Plus, let's also discuss key functionalities and factors you must consider when choosing the best PMS systems hotels can benefit from.
What Are PMS System Hotels?
Property management systems in hotels manage hotel business operations, ensuring superior guest experiences. Before innovative improvements were implemented, PMS systems hotels served as software that managed front-office capabilities, including:
Guest check-in and check-out
Booking reservations
Managing room rates
Room assignment
Billing
Without proper automation, traditional property management systems were time-consuming to use and paper-intensive. Today, it's all about technology. Beyond front-desk duties, PMS systems hotels can also run back business operations to ensure guests and hotel staff are happy and satisfied.
As a central system, PMS allows hoteliers to monitor key metrics to manage their hotels better and more efficiently. This platform can also help boost a hotel's overall performance, including RevPAR, average daily rate, and occupancy. More than front-desk operations, PMS can also accomplish the following:
Reservations from online travel agencies and hotel website
Housekeeping and maintenance
Check-in kiosks
Payment processing
Channel management
How Is a Hotel PMS System Used?
Property management systems in hotels are utilized by all types of hotels—from budget hostels to Airbnb, luxury resorts, and big hotel chains. These platforms allow hotel staff to monitor booking status and control reservations.
PMS in hotels can also track services like food and beverages and occupancy rates, as well as back-office processes. What makes this convenient is that a single system can handle multiple work environments.
The standard structure of a system for hotel revenue management consists of a reservation system with a module on front-desk operations and a website booking engine. Bigger hotels or high-end resorts also need POS or point-of-sale services.
Benefits and Importance of PMS Systems for Hotels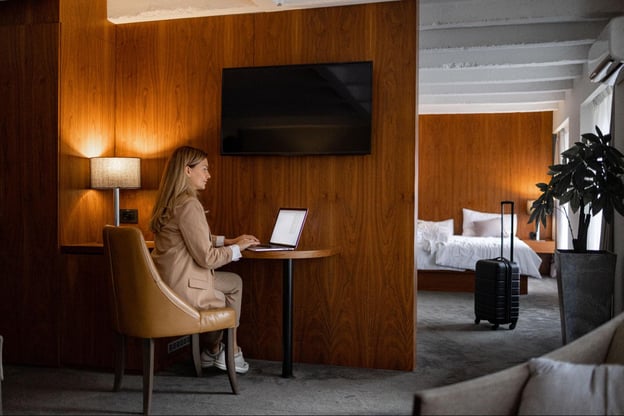 PMS systems hotels serve as the backbones of your hotel. Today, they are one of the most important innovative tools to maintain smooth operations without compromising guests' overall experiences.
Thanks to PMS, the following have become easier:
Reporting
Guest management
Front office
Sales and planning
Let's look at the main benefits hotels can leverage with PMS.
Improved Efficiency
As hotel technologies evolve and improve, everything becomes fast-paced, including hotels. Workflows in the said industry are becoming more complex and time-consuming without proper automation and utilization of an efficient system.
Property management systems can become the solution to your problems. Because they are automated, these systems can allow your hotel staff to provide better services and experiences to your clients. They also ensure you will spend less time dealing with time-consuming operations and tasks, allowing you to focus on other business goals.
For instance, PMS can provide real-time alerts to housekeeping staff when guests expect to check in early. Room maintenance can also be managed faster through the central system.
Real-Time Advantage
Most hotel businesses that operate year-round need real-time monitoring for better tracking of key metrics and overall data.
PMS systems hotels can provide just that. Because the system is mainly online, it features flexibility and convenience for hoteliers who cannot always be on-site. This allows you to take better control of your business, ensuring the satisfaction of your staff and visitors.
Real-time advantage means tracking current booking status, the need to change or adjust rates, and improving your performance based on past and current customer reviews.
Speaking of real-time pricing, HouseCount RMS provides two standout features: the ability to give new pricing recommendations based on up-to-the-minute inventory and demand data and autopilot pricing. With autopilot pricing, recommendations can be fully automated, meaning that around-the-clock coverage can be assured without needing the input of a manager. This option can be toggled on or off as needed.
Easy Hotel Check-in and Check-out
Since the pandemic, contactless experience has always been the norm, even with checking in and checking out in hotels. This promotes convenience and seamless operations without a hassle.
PMS can provide easy hotel check-in and check-out in various ways, including using a mobile app or self-service hotel check-in kiosks. Because everything is automated, property management systems can sync information automatically to regularly update data on occupancy and check-ins.
Effective Hotel Distribution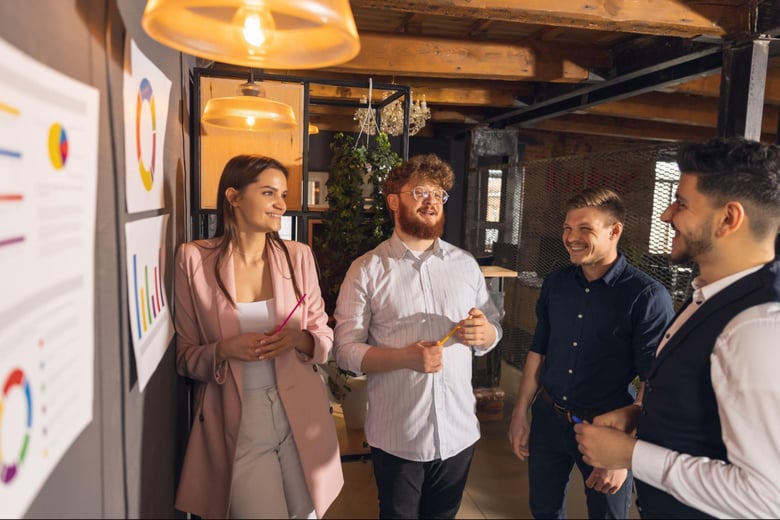 Effective hotel distribution is a strategy that lists your property on all possible channels where potential guests can locate and view them. When your rooms are visible in more channels, it's easier for guests to streamline their options, compare your rates, and secure a room.
Channels can be as direct as your hotel's website, or they can also be indirect, like OTAs, wholesalers, GDS, and metasearch sites.
And with property management systems, hotel distributions can become more effective because of real-time room rates and availability tracking. The system also boosts your sales through guests booking directly on your website.
Efficient Guest Data Management
PMS also serves as a central system where you can keep all relevant customer data that can make more detailed guest profiles, ensuring your business complies with regulations on consumer data protection. This can prevent your establishment from experiencing booking hotel fraud.
Keeping tabs on guest data also allows you to understand better your customers' buying and booking patterns, which can help you create more targeted services and packages.
A database with high-end security and an accessible format can help you ensure all confidential guest information is kept in place. Keeping all relevant guest data can also provide easier ways to create effective guest loyalty programs.
Transparency-based Communication
Transparency should always be a priority in the hotel industry, especially between your staff and guests. It's how you can develop trust and improve your image and reputation. Having a robust property management system provides a proper communication channel across all the departments in your hotel.
Transparency-based communication gives your guests a better and more personalized experience. This also saves time and makes them more open to their demands and concerns.
What to Look for When Selecting the Right PMS System for Hotels
Choosing the best PMS system for hotels is key to efficient and smooth hotel operations. These platforms are investments that can make or break the success of your business. It means you have to know precisely what you need and don't.
Because of the wide variety of PMS available in the market, hotels often make the mistake of choosing the cheapest option with the least functionalities. Or they choose more expensive platforms with too many features they don't need.
That's why we're here to help. We've summed up critical factors to consider when selecting the best property management system for your hotel.
Factors to Consider

Main Benefits

Intuitive and User-friendly interface

Promote employee adoption

Improve your employees' productivity

Reduce training time

Third-party Integrations

Works with your current tech tools

Reduce human errors that can hinder productivity

Cybersecurity

Compliant with common regulations on security and confidentiality

All data are bank-level encrypted

Automation

Makes everything more convenient to meet client demands and deadline

Analytics and Reporting

Streamlined reporting can save time to do more priorities
Intuitive and User-friendly Interface
An important factor in choosing an effective PMS is design-based. It's always best to select a platform with an intuitive interface with a simple yet effective dashboard for everyone. This promotes:
Reduced training time
Encourage employee adoption
Ensure your team members are well-satisfied with their work
You don't want your guests to feel reluctant about booking your hotel because of a challenging software tool with an ugly dashboard, do you?
A PMS with customizable dashboards is also a plus. You want a platform that offers real-time assistance regardless of where you are. This offers convenience, which guests love. Moreover, the centralized dashboard makes viewing a property's essential metrics easier, which can be shared across your entire team.
Third-party Integrations
After dealing with an intuitive and user-friendly interface, you must consider helpful third-party integrations with other hospitality technologies. This is even more important when current tech and systems are running your hotel.
A good property management system should be flexible enough to support the necessary APIs for the best integration services. This reduces the hassle of hiring an additional technical consultant to ensure all integrations run smoothly. Some of the common integrations you must consider, include:
CRS
Business intelligence
Booking engines
Revenue management
Dealing with each functionality using individual platforms can be time-consuming and more prone to committing errors. This also reduces the valuable time spent doing other priorities to elevate your guests' overall experience. It's the same reason why you must always consider ease of integration when choosing the right PMS.
Choose a property management system that can efficiently integrate within your current tech stack. It should still be able to accomplish its critical functionalities without causing delays or hindrances with the other aspects of your business.
Moreover, your PMS must be able to integrate with out-of-the-box mission-critical software. These systems run faster and more accurately, ensuring stable connectivity for proper records-keeping across all departments.
One such software that integrates well with other hospitality technologies in your tech stack is HouseCount RMS.
Cybersecurity
Of course, security should be a priority. You're dealing with confidential data about your guests; keeping them secure is your responsibility. Moreover, you must be strict about establishing regulations on security to prevent fraud and sudden hacks.
Some facets your PMS must be able to comply with include the following:
All data encrypted at the bank level
Personal data storage should be GDPR-compliant
Reduce downtime risk by the servers' geographic diversity
Card storage and processing should be PCI-DSS compliant
Access to your on-site PMS servers should be controlled and limited
Your PMS's user access controls must also be robust and secure. You need to control who gets access to confidential guest information to maintain security in payment processing and guest privacy.
Automation
Choosing a PMS with complete automation is essential, especially when dealing with repetitive administrative tasks. Today, modern and cloud-based property management systems can automate several back-office tasks, including housekeeping and reporting analytics.
Both of Luxe Pricing's software offerings provide robust automation. HouseCount, for example, has autopilot pricing, which allows pricing recommendations based on inventory availability and demand to be made automatically without the need for input from a supervisor. LuxSell, on the other hand, uses automatic, continuous pricing optimization via a robust algorithm to consider every possible upselling combination to make the best recommendation for each guest.
The automation available with these systems gives your hotel a revenue management edge that just can't be accomplished through manual processes.
Analytics and Reporting
PMS incapable of proper integrations can impede your hotel's reporting and analytics. You'll want a system that can reduce or totally eliminate the need to spend time accessing manual reports.
A PMS with streamlined and efficient reporting can give your team members more time to deal with other pressing matters. This ensures your staff can be more hands-on with your client's demands, ensuring they are always happy and satisfied with their stay.
Additionally, having a PMS that can create straightforward analytics reporting allows hoteliers to prioritize other revenue-generating activities.
Revenue Management Solutions That Optimize Pricing 24/7
From upsell opportunities to accurate price management, Luxe Pricing is here to maximize your revenue.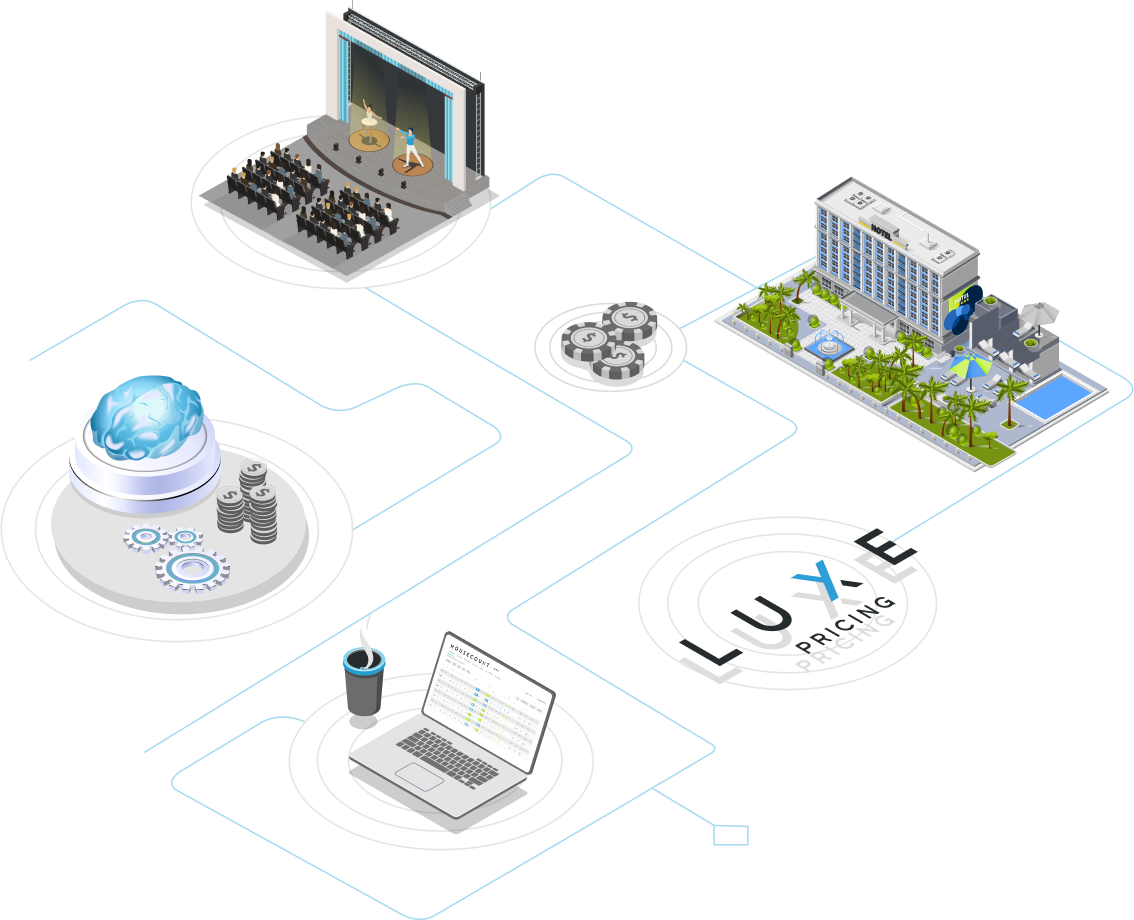 Cloud vs. On-Premise Hotel Property Management System
Whether cloud-based or on-premise, hotel property management systems should establish seamless operational processes for better efficiency. They serve as your hotel's commanding center for all types of tasks. This means that the main functionality of an on-premise and cloud-based PMS is one and the same.
But there are also differences we must point out. Both types of PMS systems hotels differ primarily on technical requirements, deployment, accessibility, and cost.
Cloud-Based

On-Premise

Deployment

Data is uploaded online with a secure password

Data is physically installed

and uploaded to a server

Technical Requirements

One vendor handles technical resources and the software

Utilize and purchase more hardware for on-site

Data Security

System security and anti-virus software are recommended

Security should be established within your office or premises

Cost

Expenses are more contained

Additional costs can arise depending on what your hotel needs

Integration

Easier to integrate

More challenging and time-consuming

Accessibility

Convenient and allows limitless access

Remote access is difficult

Upgrades

Often free and comes with the package

Longer time to upgrade
Deployment
As mentioned, physically installing an on-premise PMS on every computer in your hotel is a requirement. This is the only way for all involved team members to access the data they need in real-time.
On-premise PMS enables data to be stored directly on a server on your property. This also means your property is solely responsible for your hardware maintenance and safe data-keeping.
On the contrary, cloud-based PMS means the internet is critical in deploying the software. System data is kept off-site in the data center of your chosen vendor. This also means you can only access the data you need by entering secure login credentials.
Technical Requirements
Because on-premise systems are more traditional, they require more hardware, including data and backup servers depending on property size. Moreover, terminal server should also be considered when accessing data from the following locations:
Workstations or computers with compatible operating systems
POS and accounting systems
Back-up hard drives
Network hubs and cards:
This also means additional maintenance and implementation costs. On the contrary, you only need a stable internet connection to deploy cloud-based PMS. This means that your chosen vendor manages all technical resources. All you need is a mobile device or a computer, a web browser, and internet connectivity.
Data Security
Hoteliers used to the old-fashioned way have always feared they are not in control of their business when they cannot physically see the systems functioning. But in reality, on-premise PMS are more prone to data breaches, hacks, and fraud.
Choosing an on-premise PMS means the property is responsible for ensuring data security. You must install reputable anti-virus programs and firewalls on computers that are internet-enabled, aside from:
Manual data back-up processes
Server rooms' access restriction
Backup server implementation
Computers and drives
It's different for cloud-based PMS. You can rely entirely on vendors to carry out all the needed security procedures in maintaining a robust platform for cloud computing. More importantly, cloud-based PMS promotes better compliance with current security standards, protecting guests' information.
The Cost
Costs can vary, especially for on-premise hotel property management systems. Values can often mean a large capital expense for the following with fees included:
Software license
IT costs
Hardware operation
Annual maintenance fees
Cloud-based PMS normally offer subscription plans depending on what you need. The prices also vary, which makes your PMS more of an operating expense. Moreover, you don't need to worry about additional costs for software upgrades and hardware expenses. They are normally part of the entire subscription plan, eliminating the hassle and unwanted costs.
Integration
On-premise management systems need external systems for accounting, POS, and in-room entertainment. These additional processes make everything more complex, requiring more hardware and technical work.
On the other hand, cloud-based PMS allows easier integrations with different external systems, including channel managers and OTAs. These management systems also allow integration with open APIs and Web standards that can significantly reduce IT requirements.
Accessibility
Yes, on-premise systems enable remote access from a computer off-site, but this requires more technical setup. It includes installing a Terminal server onsite. Moreover, it's easier for on-premise PMS to easily be affected by several factors, like server workload.
Because cloud-based PMS is online, system access is easy and convenient. All it takes is getting the proper credentials and logging in from any device, regardless of where you are. You just need to connect to the internet, and you're good to go.
Upgrades
On-premise upgrades are normally done monthly, which include new functionalities, features, and bug fixes so that everything runs smoother. But they are only free when there is a set maintenance contract. There's also a need to make sure you downloaded the latest version of the PMS. Development cycles are also lengthy.
Cloud-based PMS upgrades are a breeze. Updates and upgrades are automatic and managed twice a month centrally with almost no downtime and extra fees.
How to Deploy Cloud-Based Hotel Property Management Systems
Hotel property management systems were used to being managed on-site only until recently. Because of too much space needed to fit all the hardware hotels need, most hoteliers started to rely on cloud-based PMS to make their lives more efficient and convenient.
Cloud-based PMS platforms are innovative ways to allow better guest engagement to boost hotel performance. They also helped reduce additional IT costs while simplifying infrastructure.
But how can one deploy these systems properly? Let's find out below.
Faster Innovation in the Cloud
It's easier to list new properties online when you utilize a cloud-based hotel property management system. With each new release, you can expect more capabilities to improve operating efficiency, guest experience, and employee productivity.
Lower IT Complexity and Costs
Cloud-based property management systems also enable decreased upfront capital expenditure for important hardware and software. This also helps lead to lower IT costs and complexity.
Increase in RevPAR and ADR
Cloud-based PMS feature easier management of room allocations and rates across all channels. This helps maximize your overall revenue and occupancy to improve your hotel's profitability and remain competitive.
The result is a boost in your average daily rate (ADR) and revenue parity (RevPAR).
Enhanced Customer Lifetime Value
Cloud-based PMS also increases your chances of gaining loyal clients who fully trust your hotel. These platforms allow you to encounter comprehensive guest profiles to experiment with different customizations and guest experiences.
What's the Future of Property Management Systems for Hotels?
One thing you must know about technology is that it keeps on upgrading, changing, and developing. You'll always witness new operations running to comply with updated requirements essential for global digitation.
API-first approach
With cloud-based hotel PMS shifting toward open API platforms, you can expect more established connections among recommended modules. This will significantly improve the quality and speed of data exchange.
AI-powered solutions
Hotel property management systems will continually adopt AI-powered solutions for better revenue management, business intelligence, and guest service.
Internet of Things
As the hotel's central operation center, property management systems are connected to many smart technologies, including facial recognition, in-room controls, and more. This automation is part of the connections deployed by the Internet of Things, which also involves the implementation of smart devices and additional sensors.
Transition to Marketplace Platform
Cloud-based hotel property management systems feature three main advantages:
Flexibility
Ease and efficiency
Connectivity
The emergence of cloud-based PMS solutions led to a monumental shift in the mindset of the PMS vendor communities. From a closed system mentality, expect cloud-based PMS to lean toward the marketplace platform, opening more doors for hoteliers to improve their services constantly.
Conclusion
Hotel property management systems might just be what you need to enhance and boost your hotel's overall performance. These platforms are a central system for all tasks, including front-desk duties, logistics, customer support, and more.
Hotel PMS will constantly leverage more functionalities to help hoteliers satisfy their guests' demands and expectations. With the combination of artificial intelligence, API platforms, automation, and the Internet of Things, expect more happy, returning customers in the future.
Luxe Pricing is an innovative hotel revenue solution to help improve your hotel's overall revenue, profitability, and more. Whether it's upselling or revenue management strategies you need, schedule a demo to learn more about their offerings and how they can help your hotel grow.
Revenue Management Solutions That Optimize Pricing 24/7
From upsell opportunities to accurate price management, Luxe Pricing is here to maximize your revenue.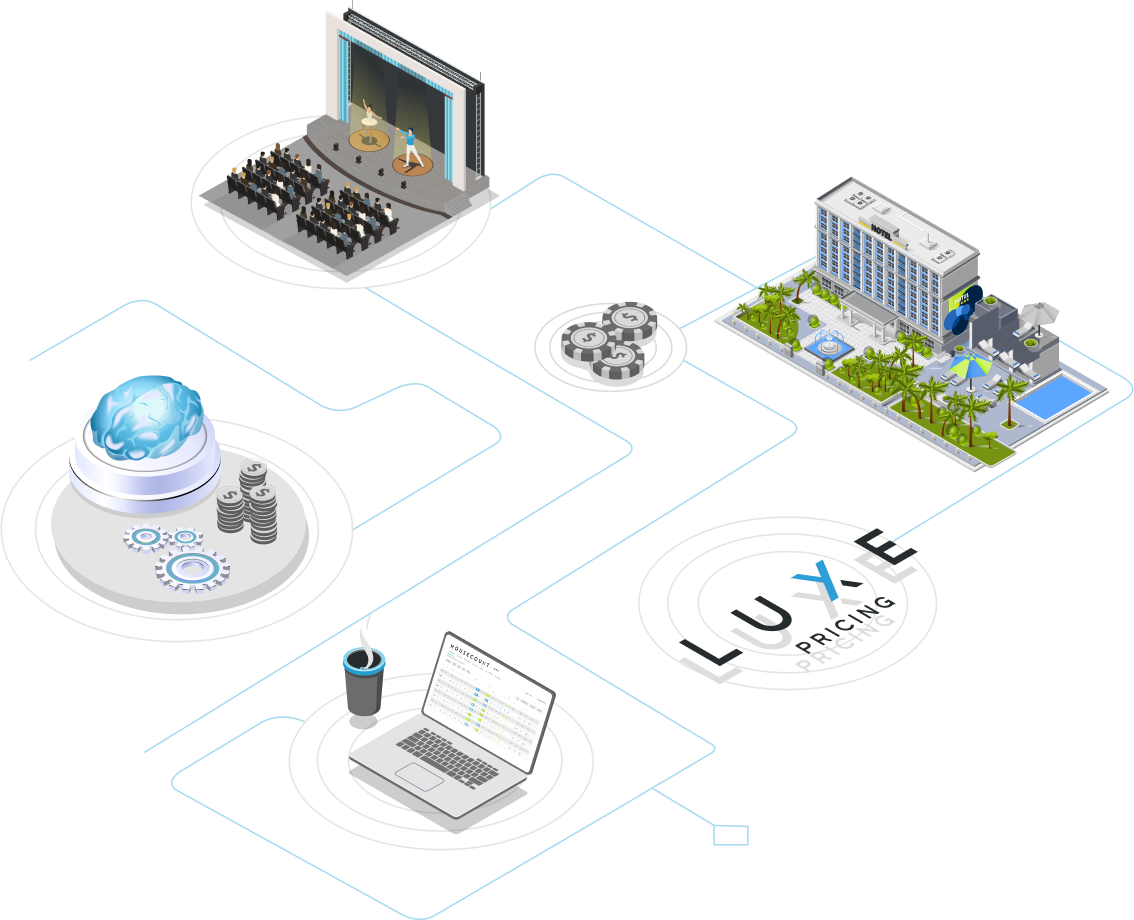 About The Author
Luxe Pricing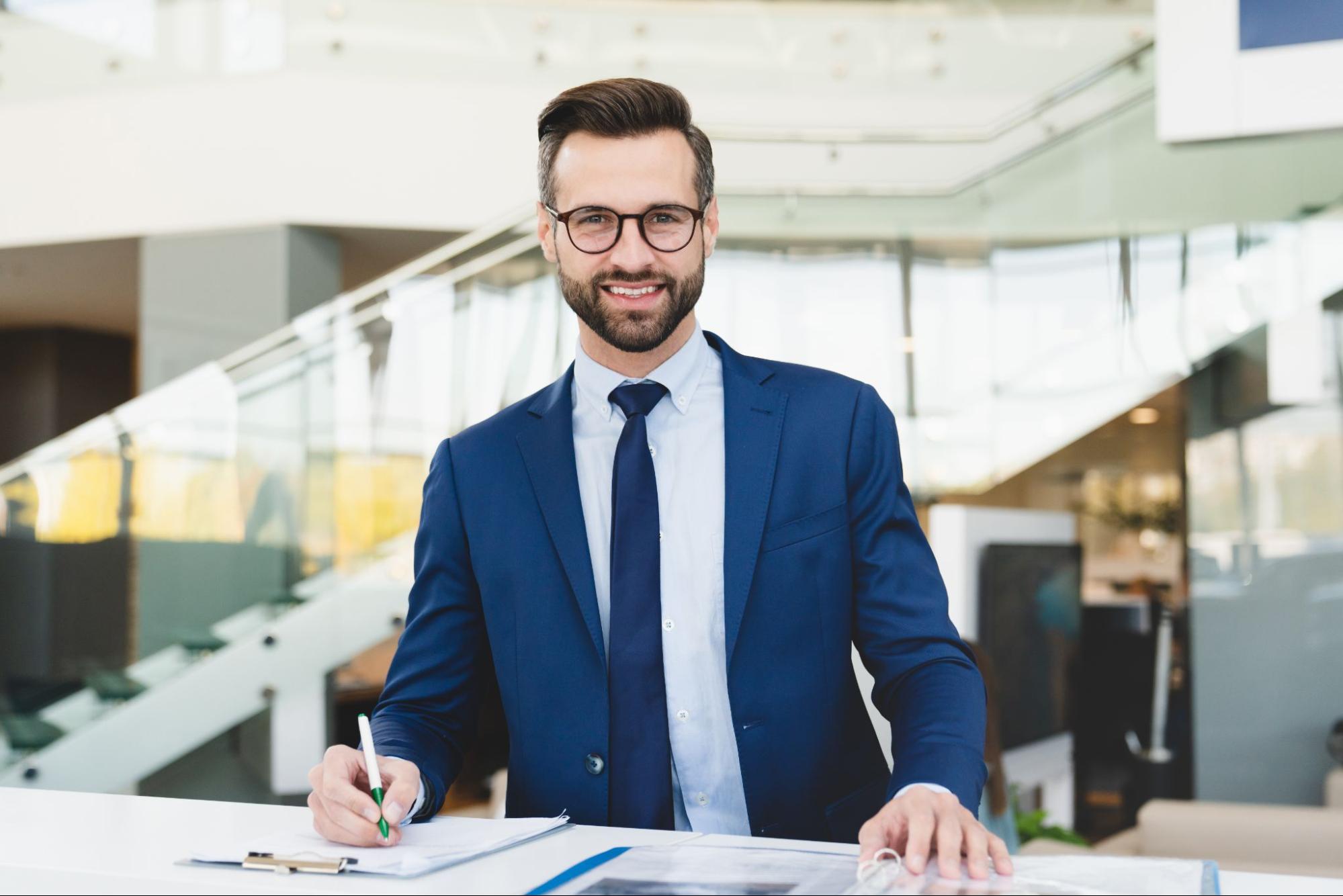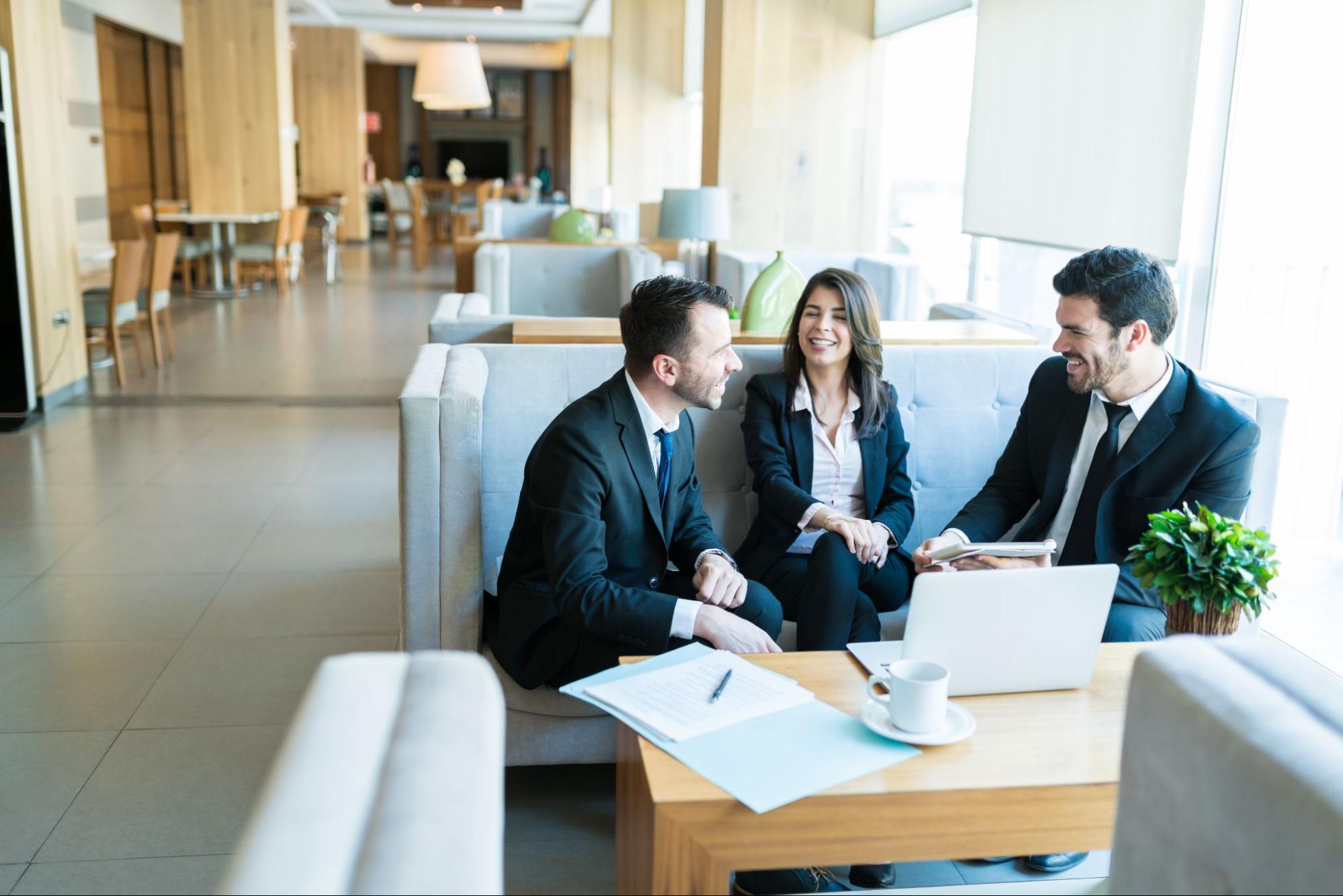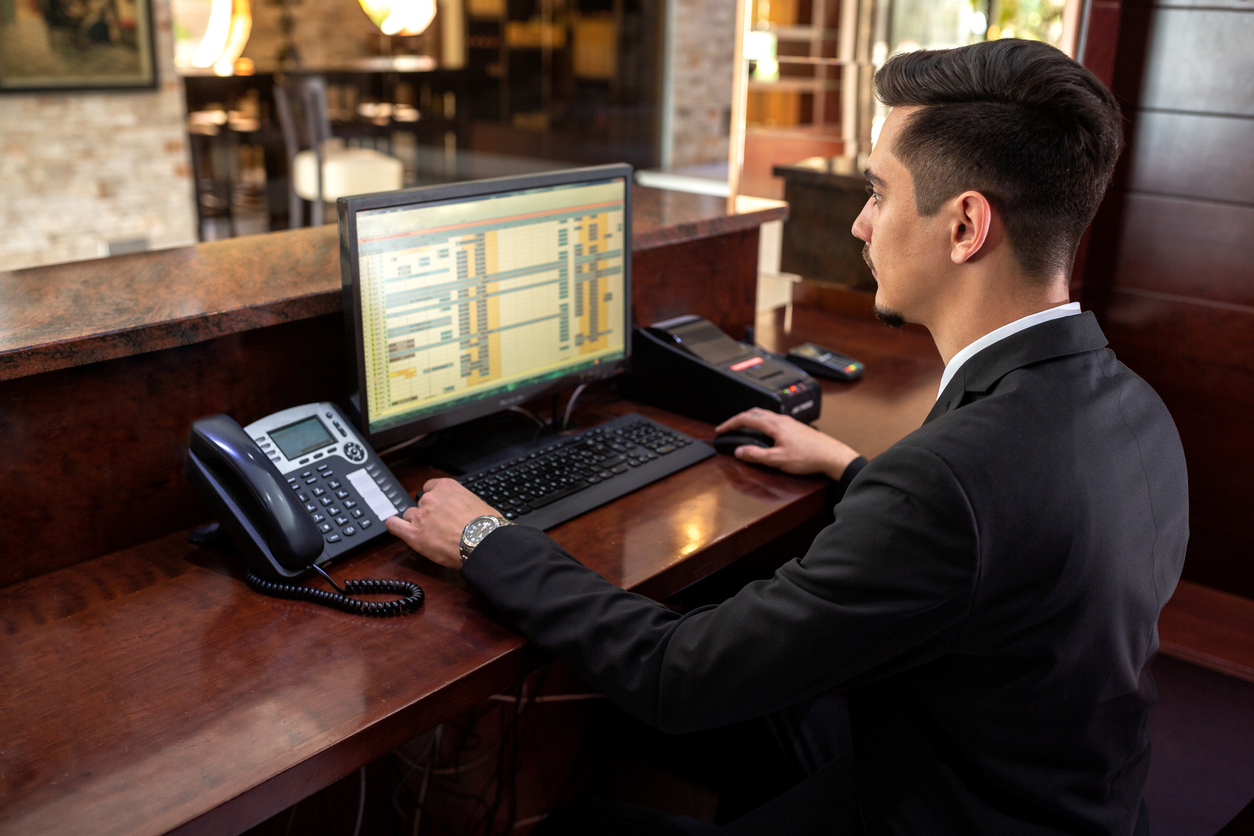 Newsletter Signup
Get Hooked! Sign Up to get the latest catch sent to your inbox.