Everything You Need to Know About Hotel Management Software
The hotel management software market is a highly lucrative industry, with a valuation of nearly $8 billion in 2019. The reason for that has largely to do with the fact that hotel management software can make a big difference to tourism and entertainment industry professionals.
Hotel management software helps streamline processes, increase hotel revenue, and improve customer experience. All of that amounts to a more streamlined and profitable business.
This guide goes more in-depth about what hotel management software is, why it matters, the different types, and how it can boost your property's revenue. We'll also go over a few examples of popular hotel software so that you can start thinking about implementing different options on your own property.
What is Hotel Management Software?
Hotel software systems are computer or web-based applications designed to maintain hotel management and administration information. Some of these tools opt for cloud-based data storage, which ensures data security and automates processes for both staff and customers.
Some of the main functions of these hotel management applications are:
| | |
| --- | --- |
| Function | Description |
| Hotel management system | It manages the hotel's daily activities, check-in and check-out, reservation registration, cancellation management, and check-in sheets. |
| Statistical and invoice management | It also allows control of monetary resources with invoice management modules and hotel statistics, such as cleaning expenses, maintenance, or occupancy rate. |
| Connection with other benefit-generating agents | Software for the hotel industry can also connect hoteliers with different agents who have access to the real-time availability of accommodations and resell rooms in exchange for a commission, this is done through a distribution program. |
| Allows online reservations | Allows potential guests to make reservations online and manage payment directly with the corporate website. |
| Pricing tools | The software is an excellent strategist in terms of revenue management, as it's able to calculate the price of an accommodation to make it profitable, generating benefits and saving time. |
| Website creation tools | It's by far one of the most important elements when it comes to promoting the hotel and encouraging guests to stay, as it optimizes the hotel's SEO (Search Engine Optimization) and offers a personalized guest experience. |
Why Software for Hotel Management is Needed
Hotel management solutions are comprehensive and customizable, making the process of managing reservations and invoices, keeping rates and availability up to date, and performing administrative tasks easier.
At the same time, hotel management software can reduce human error. Since the software has checks in place to ensure no errors arise, there's a lower chance of making mistakes that can affect guest satisfaction or lead to reduced productivity.
Software for hotel management also helps improve client satisfaction by making it possible to capture and adhere to special guest requests, leading to a better guest experience overall. The result is better loyalty and increased revenue for the hotel.
How Can Hotel Room Management Software Elevate Service in Large Hotel Chains?
Although any size hotel can benefit from hotel room management software, large hotel chains are the ones that most need this type of organization system since the flow of guests is often very high. Hotel management software allows more precise organization of information to offer a reliable and personalized service that can be recommended by customers.
All this allows the work rhythm to be maintained and the employees to be clear about their roles within the hotel's organization. Any inconvenience or guest dissatisfaction can be addressed and resolved in the shortest possible time.
Besides this, large hotel chains benefit from the marketing and market positioning capabilities offered by the hotel management software. For example, they can use this type of software to come up with the most accurate market prices and still obtain the expected profitability with each booking.
Software such as Housecount RMS can do just this. This hotel management software provides real-time automatic pricing using feedback control to adjust prices according to supply and demand.
They can also use hotel management software to upsell clients. This type of hotel upselling can increase the number of guests who take advantage of additional services, boosting revenue for the property without a ton of extra added effort on the part of the staff.
One such upselling program is LuxeSell URS, a turnkey upselling product that makes it easier to offer room upgrades, breakfast inclusions, and other upsells to clients.
Types of Hotels Management Software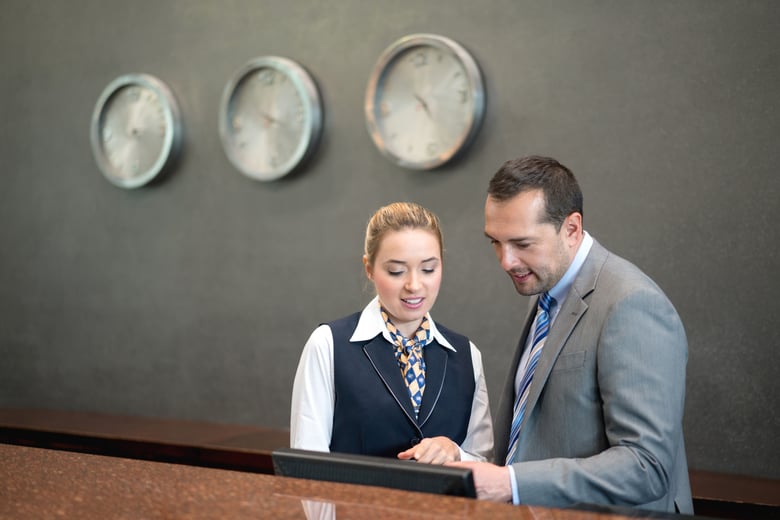 Hotels can be vastly different from one another, depending on the location and services offered. Because of this there are a number of hotel management solutions on the market, each geared toward helping hotels in different areas of management.
A couple of the most common types of hotel management software you might come across include:
Property management systems
Channel managers
Booking engines
Some hotels may use one of these types of software, while others might have a variety of different hotel management software that they use together as part of their tech stack. Let's go over some of these common types of hotel management software and how they work.
Property Management System
Imagine a fully automated reception desk that controls and organizes tasks, archives information, and attends to customers, reducing waiting times and allowing you to spend more time with your guests. Well, that's what a property management system, also called PMS, can do.
A PMS automates some of the tasks of the reception or front desk staff, storing the information of the guests staying at the property and managing all check-in and check-out details such as:
Date
Name
Room
Additional services
Customer feedback
Price to be paid
It's also capable of processing and storing requests of any type and special circumstances. Other features include keeping detailed track of hotel inventory. Cleaning hubs may also be included, which show a detailed overview of each room's cleaning status, including what items still need to be done and when the room will be ready for check-in.
Integration With Revenue Management Systems
Property management goes hand in hand with revenue management. That's why many property management systems can integrate with revenue management systems. Together, these systems make it possible for hotels to achieve exceptional operational management without overspending or losing revenue.
These systems can also generate reports showing useful information like projected budgets based on current property management styles. Once again, these features make it easier for hotels to see how to better optimize spending to boost their bottom line.
Revenue Management
Besides property management, revenue management systems are another key player in hotel management software systems. After all, building a successful revenue management strategy can be the key to getting more guests into your hotel and reducing expenditures!
Revenue management systems, shortened to RMS, have a wide arrange of features and functions, such as:
Providing recommendations on rates by using specific and highly sophisticated algorithms based on current market data
Efficiently gathering competitor and market information to provide an overview of the rates of neighboring hotels of similar size and services
Automatically adjusting pricing systems according to current market trends, inflation, and more
Collecting performance data and revenue estimates so that you can build out a revenue strategy that actually works
One thing to note is that revenue management software isn't quite the same as pricing software. Revenue management systems allow you to develop all aspects of your revenue strategy, whereas pricing systems only focus on pricing alone.
However, when used in conjunction with pricing intelligence software, these can be powerful tools to boost your bottom line and improve overall property revenue.
Integration and Plugins into Your Hotel Software Ecosystem
A good revenue management system should be able to integrate into the rest of your software ecosystem. Systems like HouseCount RMS, for example, integrate with other platforms in your tech stack so as to avoid major overhauls of any systems that you currently have.
A couple of integrations you can take advantage of include:
Oracle PMS
Infor PMS
Agilysys PMS
Outbox Ticketing System
Not only does this save money on revamping existing systems, but it also allows you to take advantage of different technologies for the various aspects of hotel management. Plus, it keeps systems streamlined and prevents you from having to use numerous systems to manage the same data. Instead, these technologies can use APIs to pull information from one another.
Channel Manager
This type of software connects a hotel's reservation system with distribution channels that promote hotel accommodations, such as travel agencies. The benefits of channel manager software are endless, from reducing the risk of overbooking to managing pricing and making rooms available for sale more quickly and efficiently.
A couple of other core benefits that channel manager software offers include:
Reduced time spent on updating pricing and availability in distribution channels
Increases opportunity for reserve and used inventory (e.g. perishable foods)
Improved decision-making processes and distribution strategies
Maintains reasonable control over advertising, photos, comments, ratings, policies, etc.
A good hotel channel manager connects your business with the most important channels that allow you to reach the type of audience you want. For example, it can focus on business traveler channels only, or it can focus more on family channels. Either way, it will result in attracting different types of guests in the future.
Once again, when you pair a hotel channel manager with revenue management systems, you can create better pricing structures across all channels. This can help you maximize the potential of your channel management system, leading to better earnings overall.
Booking Engine
A booking engine is a type of technology that gets you commission-free bookings. This type of software catches direct online bookings while optimizing sales and marketing strategy and maximizing profits.
Your hotel's own booking engine can help you become less reliant on online travel agencies, which can take up to 20% in commissions, leaving little profit for the hotel and independent operators.
It's a very practical way to process a reservation securely, both for the hotel and the guest. Additionally, it is even able to synchronize the booking engine with other social networks, so the guest will not have to enter the official or third-party website to make the reservation.
Other advantages that these types of hotel management software solutions can offer include:
The ability for guests to check availability and current rates without having to contact anyone on your team
Secure transactions that keep banking information and personal data stored in the hotel's official database.
Reservations are a faster and more efficient process that puts an end to endless emails and phone calls.
The possibility of offering guests better perks when booking with these engine's because you avoid paying commissions to intermediaries.
Examples of Online Hotel Management Software By Type
Now that you're familiar with the main types of hotel management software, it's time to get to know the most popular hotel management software for its wide range of functions and the benefits they bring to the companies that use them.
Although there are a number of different software on the market, as mentioned above, some of the top types are property management, revenue management, channel manager, and booking engines.
Here's a brief look at a few examples of each of these types of hotel management software.
Property Management: Oracle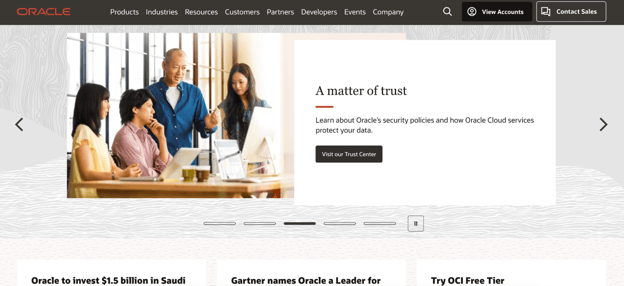 Oracle property manager is a software to streamline and automate space management that aims to reduce costs, minimize financial and contractual risks, and provide real data of the business situation.
Its store management system and point-of-sale solutions are supported by the cloud, along with the inclusion of other technologies.
It also provides its clients with company-collected information on all types of hotel operations, such as revenue management by periodicity, sales, marketing statistics, advice, catering, and any other aspect that allows for quick and informed decisions.
The key features of Oracle property manager are:
Reservations
Profile management
Front-desk module
Cashiering module
Room management
Casino comp accounting
Accounts receivable
Back-office export
Commissions
Reports
Quick keys
On-premise or self-hosted
Revenue Management System: LuxSell Pricing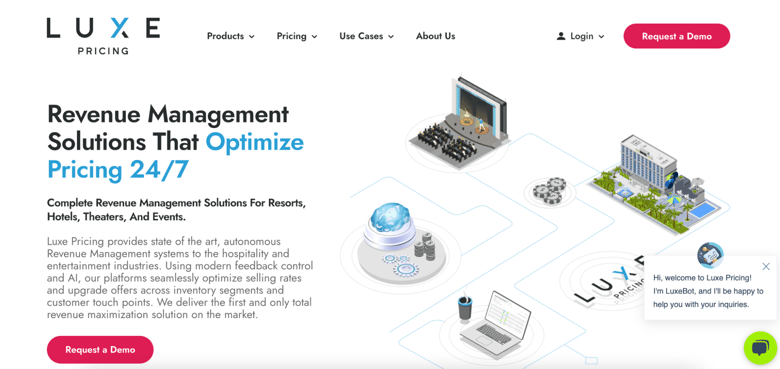 LuxSell is an upselling software solution that intelligently manages and optimizes pricing across multiple points of contact with future guests. A few of the points of contact you can manage with the software include:
Websites
Front desk
Mail
Mobile
Key features include its state-of-the-art revenue management software for hospitality and leisure consulting services, which manages sales rates and upgrade offers.
This software also uses micro-experimentation to help constantly improve the software.
It has a great capacity for real-time monitoring of the performance of channels and agents complementary to the software in order to review their performance. That's all in addition to it being an easy-to-implement tool that hotel staff will learn to use in a matter of days.
LuxSell provides innovation in the marketplace with its engineering technique called feedback control, which allows HouseCount RMS, Luxe Pricing's price intelligence tool offering, to immediately adapt to real-time changes in supply and demand, resulting in the most flexible and accurate pricing recommendations possible. This helps hotels develop a solid pricing strategy for the property.
Besides integrating with HouseCount RMS, LuxeSell also has several other software available on its platform. This includes an upselling system designed to help you boost earnings from guests and customized solutions that are tailored to your property. There are also pricing systems that help you come up with competitive prices and room rates for your hotel.
Channel Manager: Lodgify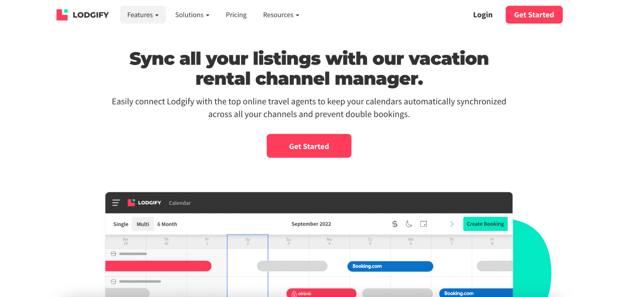 Lodgify is an integrated channel manager that connects your listings to external and well-known travel agencies such as:
Airbnb
Vrbo
Booking.com
Expedia
This platform allows you to synchronize and automatically update reservations, calendars, and rates across all major channels so that if one guest makes a reservation, inventory is automatically updated across all others.
The platform also helps prevent double bookings and lets you save time checking multiple channels on a single account. This is all thanks to Lodgify's bi-directional API integrations.
Finally, you can classify your business according to the number of properties, with 1 to 5 being special for small hotels or lodgings and more than six specific for larger chains that need more extensive channel management and visibility.
Booking Engine: Lodgify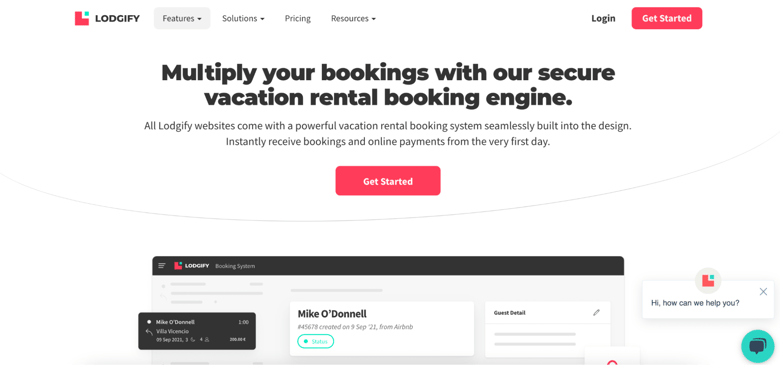 Lodgify also offers integrated booking engine support through the use of mobile-optimized templates. They also offer website build-outs for hotels that need to start from scratch.
The website builder is very easy to use as it doesn't require any technical or specialized design knowledge to start creating. In addition to this, the websites have SEO-optimized tools that allow visibility for more customers and future guests.
Their platform also offers more than 30 languages to attract international tourists from all over the world and gain visibility for your brand. This helps make your lodging more accessible to different kinds of tourists.
Another benefit that Lodgify provides to its users is the improvement of brand awareness by connecting with local agencies or providers of tourist activities near the hotel. Plus, it's also possible to create customized pages about activities such as extreme sports or tourist attractions as the website will be included by google in that search.
How Hotel Industry Software Can Increase Your Property's Revenue
Hotel software can help streamline operations and provide better guest experiences, leading to increased revenue. With the right software, you can:
Manage reservations
Automate check-ins and check-outs
Track guest preferences
Analyze guest data
The table below breaks down how each of these benefits can help boost revenue and why that makes hotel industry software so important for boosting property revenue.
| | |
| --- | --- |
| Feature | Effect on Revenue |
| Improved reservation management | Manage reservations and get planning advice in order to help maximize the number of reservations possible at a property. |
| Create personalized guest experiences | With software that tracks guest preferences, you can provide personalized experiences that keep guests coming back. For example, if a guest prefers a certain type of room or specific amenities, you can make sure that they're always provided. |
| Simplify payment processing | Hotel software can make payment processing easy and efficient, reducing errors and saving time. This can help increase revenue by reducing the amount of time it takes to process payments and minimizing mistakes. Something that is sure to make your guests smile. |
| Data analysis | By analyzing data on guest behavior and room occupancy, you can make more informed decisions about rates and marketing strategies. This can help you maximize revenue by pricing rooms appropriately and targeting the right guests with promotions and special offers. |
Another thing to note is that hotel software can generate revenue using only the tools and applications needed for each hotel. In other words, they can take a customized approach to provide comprehensive strategies and the advice needed to optimize both your teams and software. The result is that you spend less money on multiple software and instead optimize the software that you have available to you.
Overall, hotel software can help you optimize operations, provide better guest experiences, and make data-driven decisions that lead to increased revenue.
Conclusion
Hotel management software allows property owners to simplify tasks, improve productivity, boost revenue, and remove tedious manual labor. Hotel management software encompasses a number of different types of hotel technologies, such as revenue management systems, property management systems, channel managers, and booking engines. These systems, when used in conjunction with one another, can have positive implications for your hotel's bottom line.
LuxePricing can help you boost your revenue and increase earnings through upsells and accurate pricing and revenue management strategies. Book a demo today to learn more about how this software works and how it can benefit your business.
About The Author
Luxe Pricing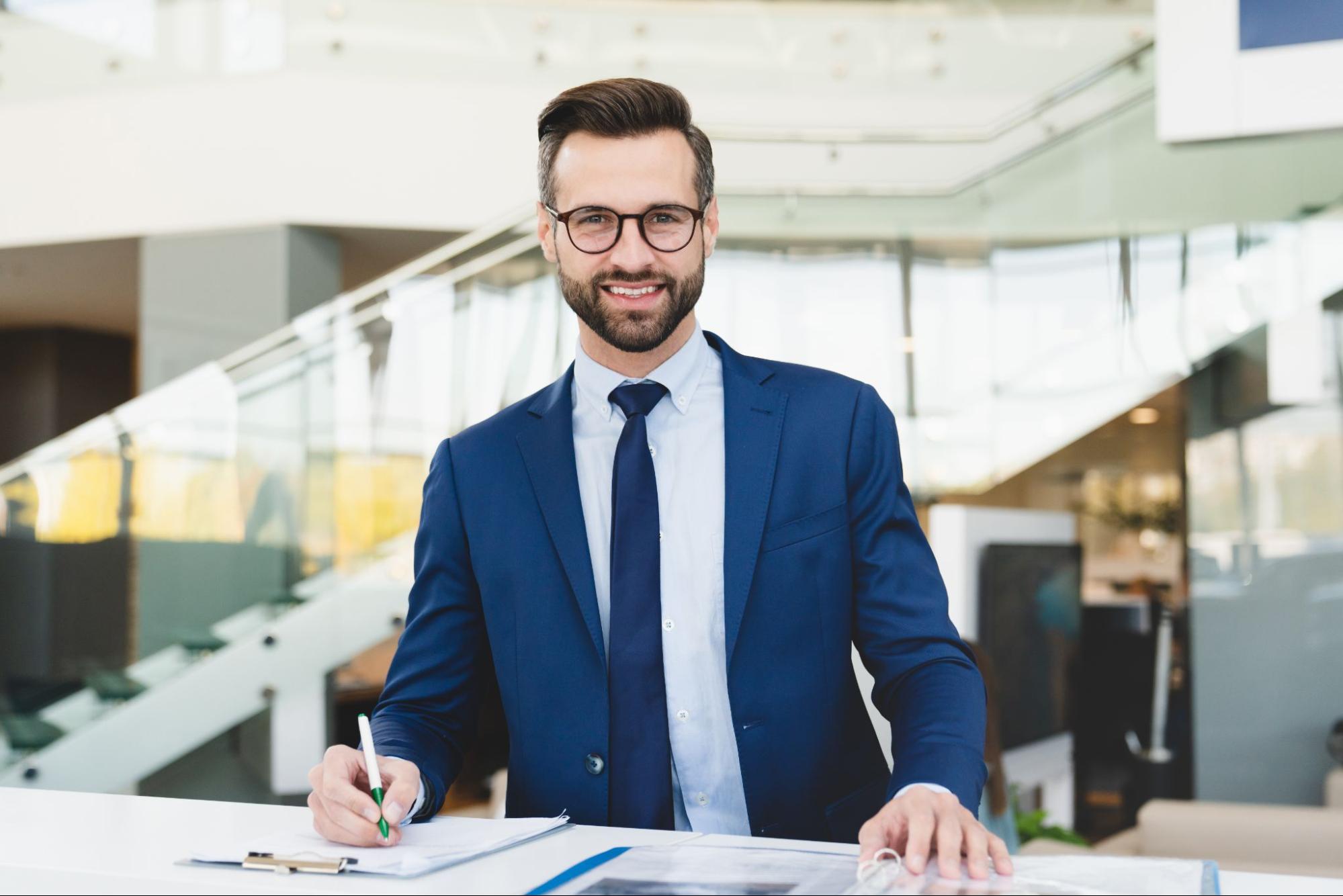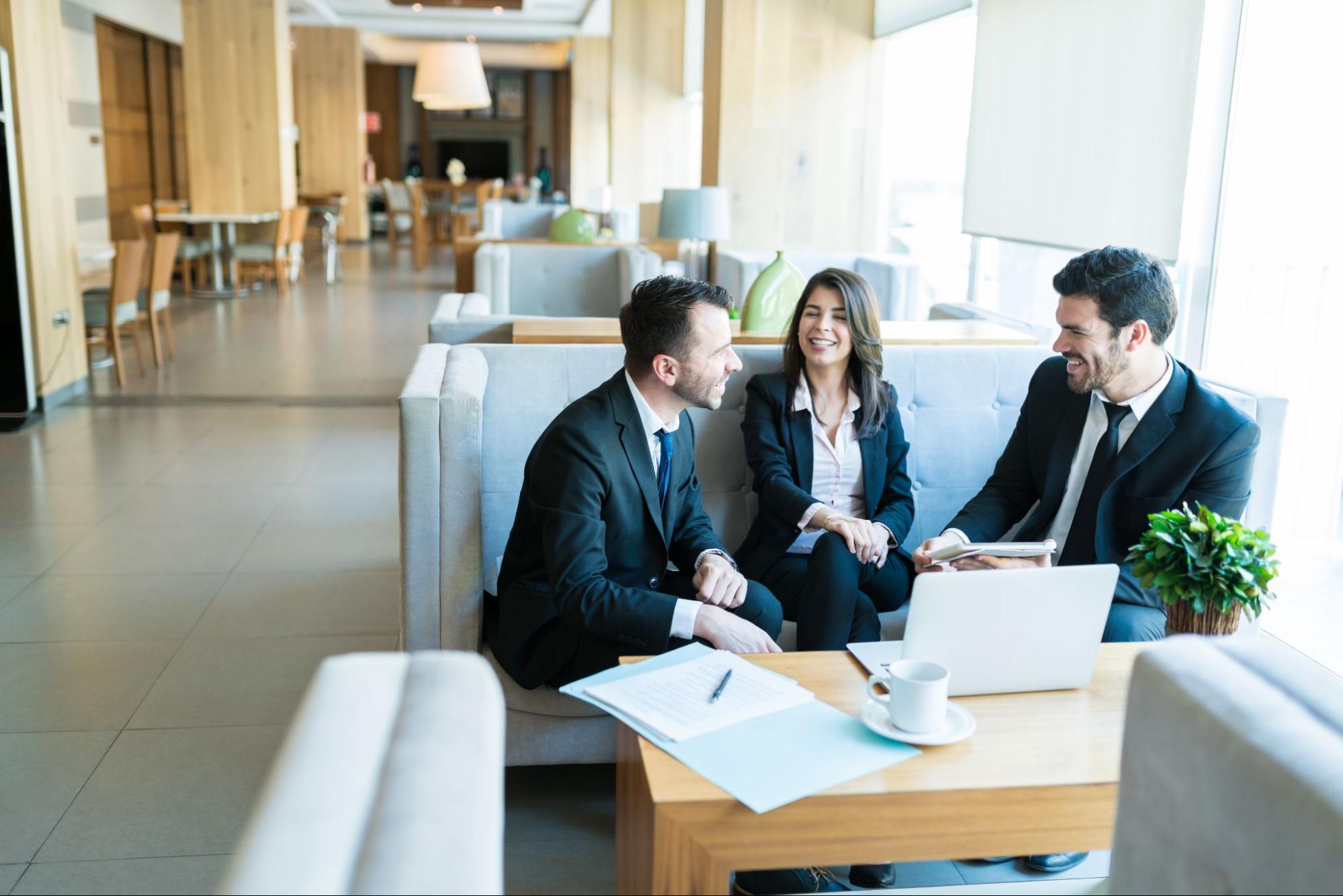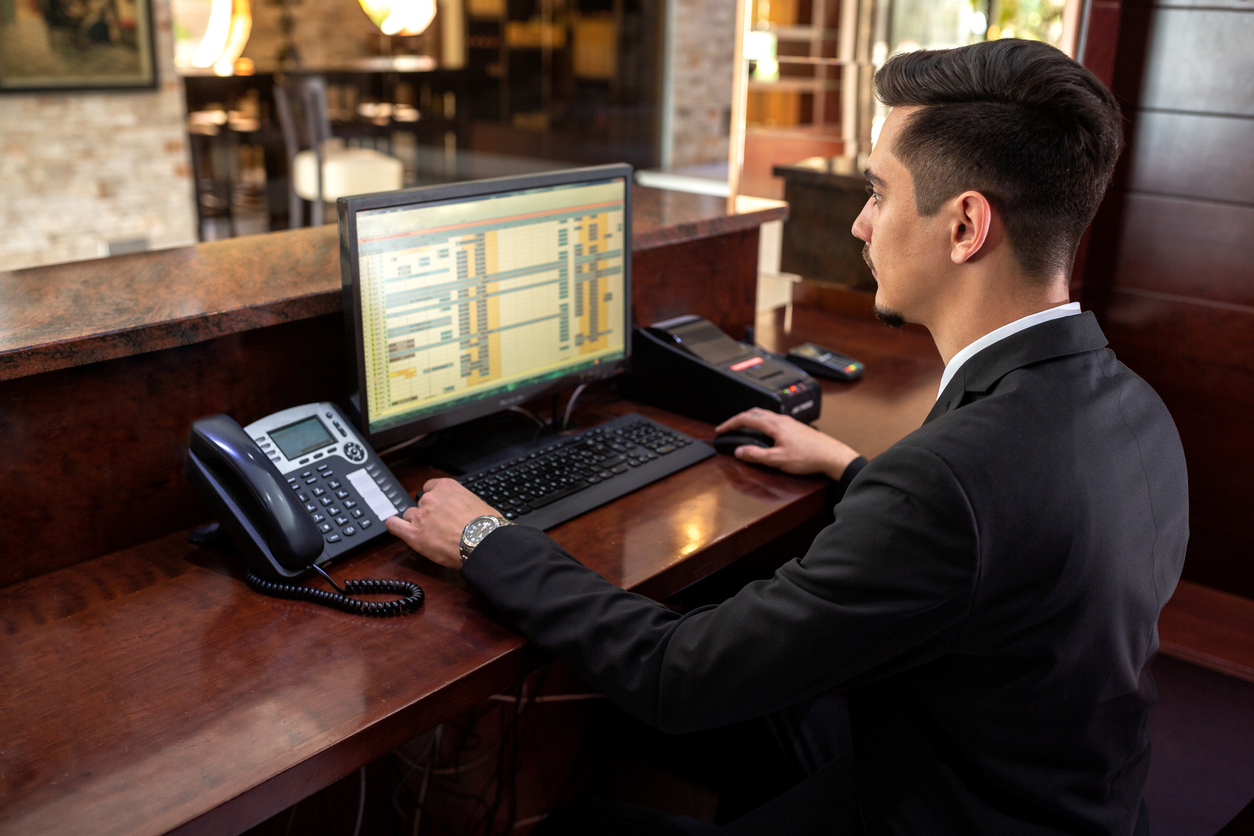 Newsletter Signup
Get Hooked! Sign Up to get the latest catch sent to your inbox.