A Guide to Hospitality Technology: What You Need to Know
According to a recent study, around 58% of businesses implementing emerging technologies have been able to grow their revenue 80% faster. That's a huge improvement on those businesses' bottom lines and is just one of the reasons that so many companies are increasingly implementing technology in their daily operations.
When it comes to hospitality, businesses in the industry have somewhere between 10 and 30 different software in their tech stack that they're using to further business objectives. Each of those hospitality technologies plays a key role in helping these businesses grow and improve the guest experience.
If you're interested in learning about hospitality technology and how it can boost your business, this guide is for you. In this guide, we'll go over why hospitality technologies matter, some of the top technologies out there, and a few of the different types of technologies to keep in mind.
What is Hospitality Technology?
Hospitality technology is a resource used by the hospitality sector that covers different IT functions, predictive intelligence, electronic commerce, media, and in general technological solutions that serve as support for this industry. These technologies help further business objectives, increase hotel revenue, and streamline processes.
On top of that, these tools make it easier for hospitality businesses to develop employee activities. For example, AI can help make taking guest bookings and managing cancelations easier. A big reason for this is thanks to AI in the hospitality industry, which can accelerate processes and free up employee time.
Hospitality technology can also help improve customer service, automate repetitive processes, and personalize hotel services. Several examples of hotel technologies that are used in the hospitality industry include:
Housekeeping software
Collaboration tools for staff
Payment processing tools
Guest surveys
Why Hospitality Technologies Are Essential
There are a number of reasons why hospitality technologies are so important, but the main reasons are that they boost operational efficiency and help hotels cut down on costs.
Besides this, hotel technology allows organizations to keep up to date with the latest trends in the industry.
One good example of this would be pricing intelligence software. This particular hospitality software scans market conditions to help hotels understand how supply and demand is affecting prices. From there, hotels can use the software to set competitive prices that are more attractive to customers.
Another reason why hospitality technology is so important is for the guest experience. Hotel technology can help improve communication between the hotel and guests through things like feedback and surveys. This can help hotels improve their offerings and better cater to their clientele.
The use of hospitality technology can also improve the accuracy of work. Computers and software can calculate things like revPAR, which is difficult to be calculated accurately through manual computations. This can improve what hotels know about their bottom line and make hotel revenue management easier.
Lastly, hospitality technology can speed up processes. Automation can help streamline tasks such as automatically adding online bookings to hotel management systems and calendars that employees work with. This makes it easier to see when rooms are booked and to avoid issues such as over or double booking.
8 Hospitality Tech Systems Solutions for Revenue Management
Although there are a number of different types of hospitality tech systems, one of the key types of technologies used in the industry are systems specifically designed to help revenue management. Revenue management involves hotels using data and analytics to understand how to increase hotel revenue while reducing hotel spending, leading to increased profits.
Currently, around 28% of hotels use revenue management technologies to help improve spending and increase their bottom line.
Let's go over a few examples of those hospitality tech systems solutions for revenue management.
Revenue Management Software
In terms of revenue management software, there are a number of different tools that can be beneficial to hotels. These systems function by automatically checking the supply and demand of the market to help adjust hotel prices to fair rates.
1. HouseCount RMS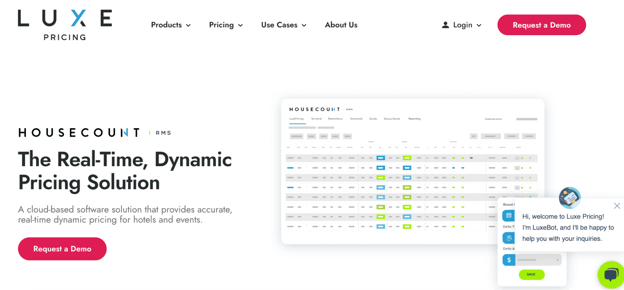 HouseCount RMS is a cloud-based software that offers real-time, accurate dynamic pricing for hotels and events. It specifically seeks to meet two objectives:
Create the strongest price recommendations in the market
Maximize revenue opportunities for the hotel
This tool has several competitive advantages in the market that allow it to stand out from others, such as the fact that it's a responsive site and can be accessed from a mobile device, allowing users to work from anywhere.
Other aspects to highlight are the ease of use created with a focus on the user experience, optimal casino performance, and the ability to use the tool with multiple properties all from the same system.
What's more, this software provides the following features to users:
Accuracy
Real-time pricing automation
Autopilot pricing that works 24/7
Inventory type pricing
Customization
2. Duetto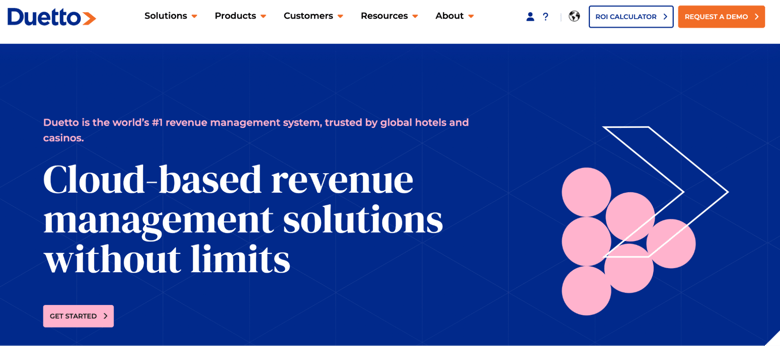 Like HouseCount RMS, Duetto is a software that's cloud-based and is responsible for offering real-time information on prices, forecasts, and demand. Its goal is to help hotels and casinos better predict market prices so that they can create fair and appealing prices for their guests.
Duetto's approach is holistic, seeking a total optimization of benefits and offering a winning customer experience thanks to the analysis of their data and behaviors.
On top of this, this program has integration partners offering strong and reliable connections. A couple of these partnerships and integrations include:
Amadeus
Oracle
Agilysys
Mews
Despite the benefits of this software, it's important to be aware that it's on the expensive side. There's also no free version, and you have to pay a hefty setup fee per property if you want to use it. Because of this, HouseCount RMS tends to be the better pick.
Upselling Software
Hotel upselling software is another type of hospitality technology for managing revenue within casinos, hotels, and other businesses in the industry. This type of software basically helps companies increase their income by making it easier to offer upgrades to clients.
3. Luxesell URS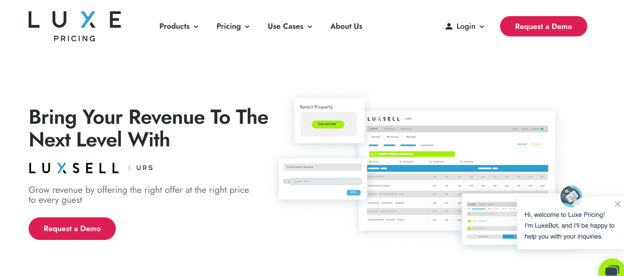 Luxesell URS is an example of an upselling technology with the goal of this program is to allow hospitality sector customers to increase their income by making the right offer at the right price for each guest.
This upsell software solution enables intelligent 24/7 management and upsell optimization at any customer touch point and is capable of easily integrating into any existing technology stack a company is using.
The best thing about this option is that LuxSell URS seeks to continuously improve using micro-experimentation, which means that the tool is constantly learning and improving its effectiveness through continuous testing. With every upsell that's processed, Luxsell is able to make better, smarter recommendations.
Channel Managers
Channel managers are very simple types of hotel revenue management technology that allow properties to synchronize bookings across all different channels. In other words, this keeps your availability accurate by ensuring that there are no double bookings for rooms or dates based on all the different platforms your property is listed on.
4. Siteminder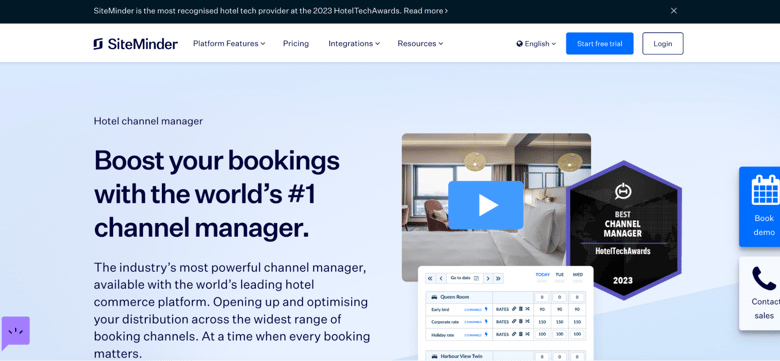 Siteminder is a leading platform in the world of hotel trade specializing in increasing reservations and improving the visibility of companies in this sector on the internet. Siteminder connects an accommodation with different national and international booking channels that guests visit, thus allowing an increase in income.
A couple of different things that this channel manager offers include:
Booking engine
Hotel website design
Marketing associates
What really makes this piece of hospitality technology stand out is the marketing associates who help boost your brand and improve brand identity. Once again, these actions can lead to boosted revenue, all while centralizing bookings across channels from a single interface. Additionally, the platform allows access to a digital hotel ecosystem that connects with industry partners and promotes business growth.
5. Cloudbeds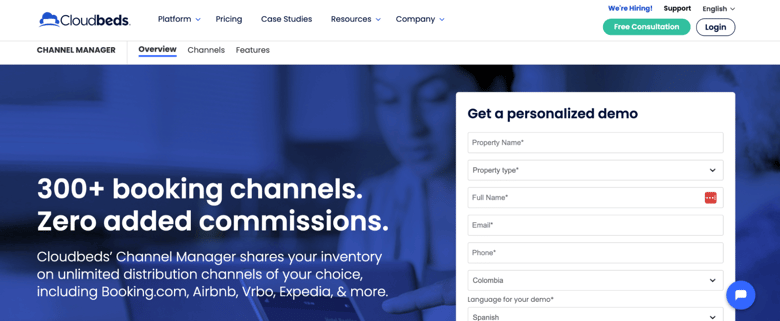 Cloudbeds is another channel manager that seeks to increase revenue, create memorable experiences for guests, and streamline processes and operations. It currently has more than 300 commission-free reservation channels, allowing hotels to take advantage of many different revenue-driving opportunities.
It's a tool created for properties of any size and is currently available in seven languages:
English
Spanish
Portuguese
Thai
French
Italian
German
Among the best features that it offers include ease of use, detailed financial reports, pricing system automation, a booking engine, constant communication with customers, promotion through digital marketing, and integration with other external services. All of these features make it easier for properties to drive revenue and increase bookings across various channels.
Central Reservation Systems
A CRS, or central reservation system, is a type of hospitality technology that collects data from distribution channels, call centers, and property management systems to manage inventory effectively. These systems can be used across a variety of businesses in the hospitality industry, including hotels, airfare, and cruises.
Besides managing online bookings, these systems also centralize offline bookings, keeping track of inventory and information in a single place. This makes it easier to later add and retrieve information about bookings and transactions.
6. Cendyn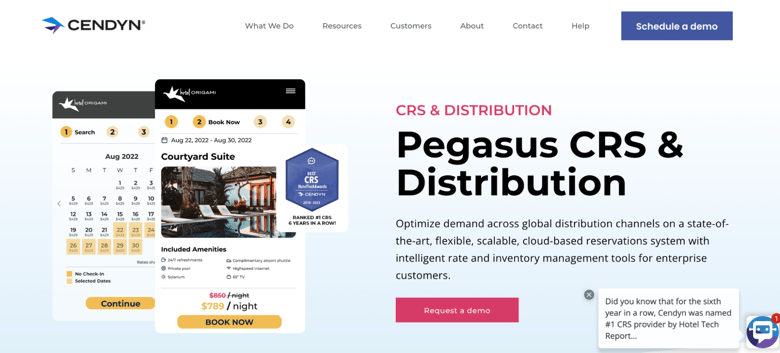 Cendyn is a highly rated hospitality technology platform dedicated to reservation management, as it has an intuitive, responsive, elegant, and powerful booking engine. Cendyn's CRS system centralizes reservations, inventory, availability, and rates from over 400 locations, including:
GDS
Call centers
Your website
OTAs
Channel managers
Metasearch
Additionally, this software helps convert site visitors to paying guests through dynamic prices. The result is that this helps generate and increase revenue through promotional codes, rate plans, and geo-targeted promotions.
Besides assisting with demand generation, this CRS has a centralized reservations management tool that is based in the cloud. It uses microservice APIs to tailor your revenue management strategy to your particular hotel or business and makes it easy for you to scale your CRS solution.
Parity Management
Tools for parity management help hotels achieve rate parity, which refers to keeping rates consistent across all channels. This ensures that OTA, or other travel agencies, display the same rates as your hotel and provide customers with consistent pricing.
7. OTA Insight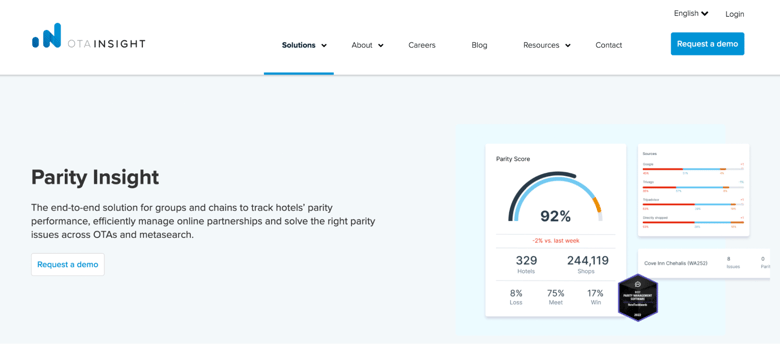 When it comes to parity, OTA Parity allows both smaller hotels and large enterprise chains to track the parity of their hotels. At the same time, it's also able to easily manage online channels and resolve parity issues with OTAs and metasearch engines.
This technology stands out for being intuitive and for the automated control over the resolution of parity problems, saving time, and allowing prompt detection and solution without so much effort on the part of the hotel staff.
In addition, OTA Insight highlights the ability to control parity in early distribution channels effectively using tools that provide quick action and response, as well as constant communications with distribution partners for better collaboration.
Service Optimization
Service optimization platforms are software that is designed to help hoteliers improve customer service and better the guest experience. At the same time, these service optimization software help improve team service speed and engage employees.
8. Amadeus HotSos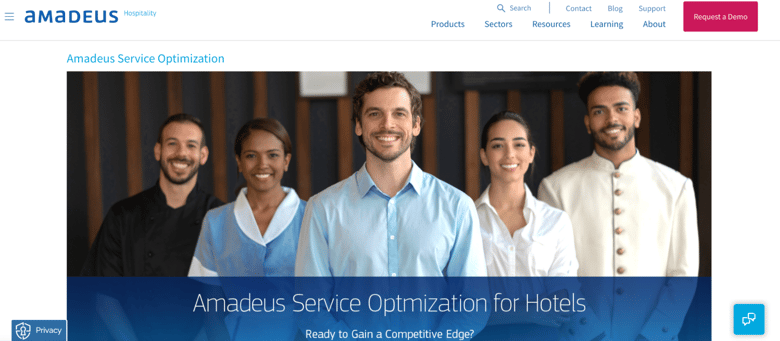 Amadeus is one company that offers service optimization software, specifically with three different options, all under their trademark HotSos brand. With this tool, hotels can achieve more detailed reports, boost customer loyalty, get a 360-degree view of their hotel, optimize labor, and maximize efficiency.
Despite the fact that all the HotSos software is designed to achieve these goals, there are a couple of differences between them. The three different HotSos optimization software are outlined in the table below:
| | |
| --- | --- |
| Tool | Description |
| HotSos Select | Allows some service hotels to manage reports, inspections, scheduled maintenance, and automated operations. |
| HotSos | Allows all hotel properties to manage inspections, guests, mobile access, advanced task automation, scheduled maintenance, and access to more than 200 integrations. |
| HotSos Housekeeping | Allows all hotel properties to manage guests, room inspections, access to 200+ integrations, housekeeping automation, mobile access, scheduled maintenance, and advanced task automation. |
The Latest in Hospitality Technology
Although revenue management technology may be one of the most common types of technology in the hospitality industry, it's far from the only type of technology out there. Hospitality organizations also benefit from a number of software and hardware, such as chatbots, virtual reality, and more.
Let's break down a couple of the other types of technology in the hospitality industry and go over why it matters and why it's trending.
Voice Search & Voice Control
Voice control technology is a type of hospitality technology that relies on artificial intelligence. It detects speech patterns, such as commands, and responds to those commands.
A couple of examples of voice search and voice control in the hospitality industry include using smart hubs to control features in the room. A few things that voice control hubs can allow guests to control include:
Use of entertainment devices
Room temperature
Light levels
These features improve the guest experience while also boosting personalization. Additionally, having these types of features as part of hotel rooms can be a differentiating factor that makes properties stand out and ultimately attracts more guests.
Contactless Payments
Whereas cash was once considered archaic, chip or swipe-only cards are quickly being lumped into the same bucket. Thanks to the rise of digital wallets, such as Google Pay for Android or Apple Pay for iPhones, contactless payments are increasing. Contactless payments can be accepted through bracelets, smart watches, cell phones, and more.
One of the reasons contactless payments rose so quickly is due to the COVID-19 pandemic. In an effort to implement more hygienic ways of making purchases, contactless payments proved to be the obvious solution. Besides improving hygiene, however, contactless payments are also agile and secure thanks to wireless encryption that protects customer data.
Once again, the result is that hotels that accept these types of payments can improve guest satisfaction. They make it easier to receive payments from guests while respecting health-conscious clients and improving the protection of guest information.
Chatbots
Chatbots are another key type of technology that has come to the hospitality industry. Chatbots allow guests to ask basic questions, sort of like what you'd find on a property's FAQ page, without the need to connect them with a staff member.
This helps reduce costs, optimize employee task management, and increase the speed of service for guests. Additionally, since chatbots can work 24/7, they ensure that clients can get answers anytime, increasing customer satisfaction and potentially increasing the chances that they'll make a booking.
Chatbots can also be programmed to speak different languages, which helps with effective communication for guests that don't speak the native language of the area where the hotel is located.
Virtual Reality
Virtual reality is often thought to be used exclusively for entertainment. But, the truth is, this technology could be used by any industry since it's a potential marketing tool that offers relevant information to customers through graphics, stimulating different senses during the process.
Virtual reality can allow a potential client to not only read reviews of properties in order to understand what it's like but to get the experience of entering a room and potentially viewing the entire property.
This allows guests to get a feel for the property before making a purchase, helping generate trust and improve satisfaction.
Mobile Check-In
Mobile check-in is a self-service technology that allows guests to check in through a mobile device before arriving at the hotel. Rather than the guest having to wait at the front desk to check in, they can do it in advance or upon arriving, giving them faster access to their room and reducing the workload for front-end staff.
A few features of mobile check-in platforms include:
Room choices via an app
Real-time notifications of room status
Quick updates on room changes generated by the hotel
Recognition Technology
Many physical technologies are now migrating to digital solutions. One example of this is recognition technology, which does away with the need for physical key cards, which can easily be lost or stolen.
Instead, recognition technology allows guests to open their rooms using eye, face, or fingerprint recognition systems. Alternatively, these systems could use a PIN known only to the guest (and the hotel).
This improves security for the guest and the hotel, as it's more difficult to falsify recognition technology versus a standard keycard. The hotel also saves money from having to replace lost or stolen keycards. Having a digital entry solution instead of a physical one is more environmentally friendly, contributing to reducing the need for unnecessary plastic production.
Augmented Reality
Like virtual reality, augmented reality can give guests a glimpse of the real-world environment of a property before they make a booking. This helps visualize information that they may request ahead of time, such as how large the rooms are, what amenities are included, and more.
One thing to note is that augmented reality is not the same as virtual reality. To get a better understanding of the differences between these two technologies, refer to the below table.
| | |
| --- | --- |
| Augmented Reality | Virtual Reality |
| Uses a real-world setting to display digital images, usually using a camera, such as the one on your phone or laptop. | Completely immersive digital spaces where the user needs to wear a specialized headset to experience. |
Cybersecurity
Cybersecurity is becoming an increasingly important issue, not only in the hospitality sector, but in a number of industries.
With roughly 30,000 cybersecurity attacks per day, the importance of having strong security measures in place is the key to protecting customer data.
Since hotels store sensitive information such as payment details, dates of birth, and ID documents, having effective cybersecurity controls in place is important. Multi-Factor Authentication (MFA) for employee logins is one example, meaning the employee must verify their login through another medium, like email, SMS, or through a verification app. Another example would be robust administrative access controls for all software that the hotel uses. This allows managers and IT teams to provide specific user access to an employee based on what they need to access and nothing more. This is important because if an attacker gets access to the system via an employee with a lower level of access, a portion of the system is compromised, not the entire system.
Big Data
Another type of hospitality technology to be aware of is big data. Big data refers to large data sets that are analyzed by computers in order to extract data about patterns, trends, and associations of customers, among other key information.
Hospitality industry leaders can take advantage of big data to learn more about their clients and their demographics. Things like discovering what websites guests typically visit, for example, can help hotels better understand what clients are looking for.
With these types of insights, hotels are then able to tailor marketing strategies toward their customers. This creates better spending of marketing budgets with a greater return on investment.
Cloud Communication
Cloud communication technology has been one of the most recent advances and updates in terms of the use of technologies in all sectors. In essence, it allows you to save money, time, and physical paperwork.
In addition to this, communication in the cloud demonstrates social responsibility for hospitality businesses. This is because cloud systems better protect against security breaches, helping protect guests' private personal information.
Finally, cloud-based software also allows hospitality businesses to offer almost immediate customer service by connecting global employees with clients in various time zones. This reduces wait times and makes it possible for businesses to offer 24/7 guest communication. In that same vein, it also enables hotel employees in various locations to communicate and interact with each other and with guests.
Final Thoughts
To be a leading company within the hospitality industry, it pays to know about current and up-and-coming technologies. It's these hotel technologies that can help your business gain a competitive edge and better cater to customers.
Technology such as augmented reality, artificial intelligence, cybersecurity, and cloud communication are just a few of the systems that hospitality leaders are taking advantage of today. In doing so, they're able to better customer communication, streamline processes, and improve organizational efficiency.
Among the most common hospitality technologies that hotels and other industry leaders are implementing our revenue management solutions. Luxe Pricing offers two such revenue management solutions, HouseCount RMS and LuxSell URS.
Schedule a demo today to learn more about these software solutions and how they can help you improve your property's bottom line.
About The Author
Luxe Pricing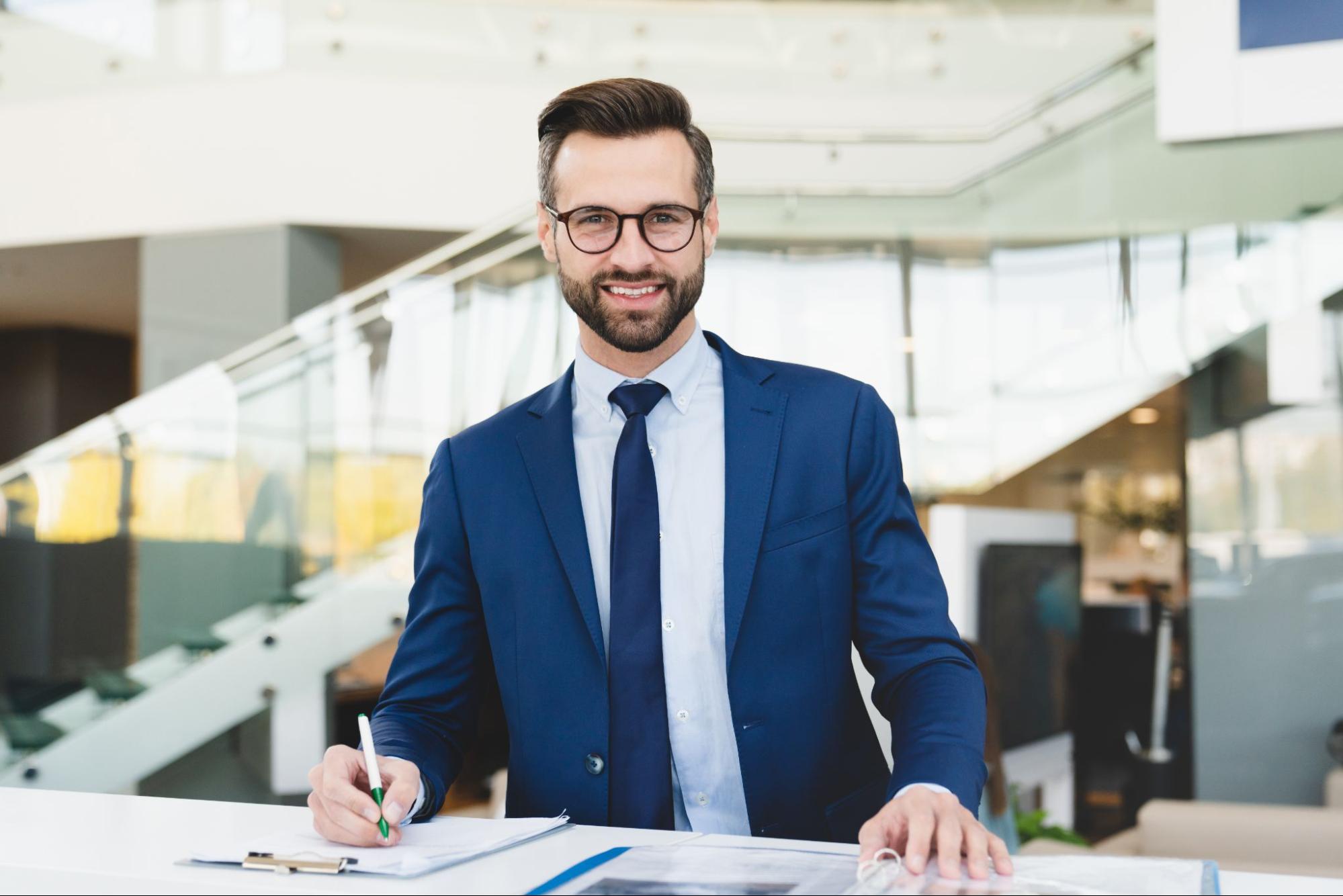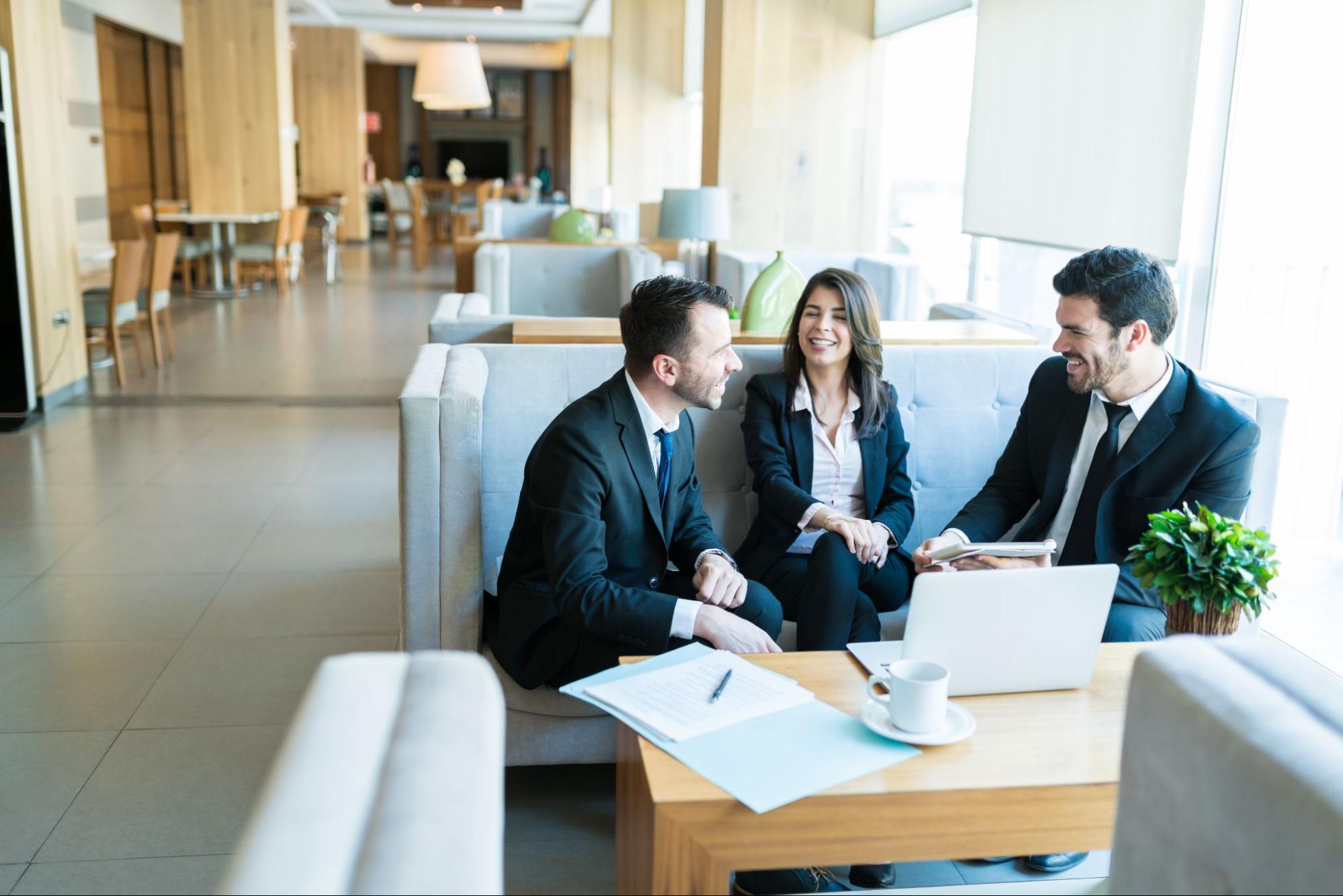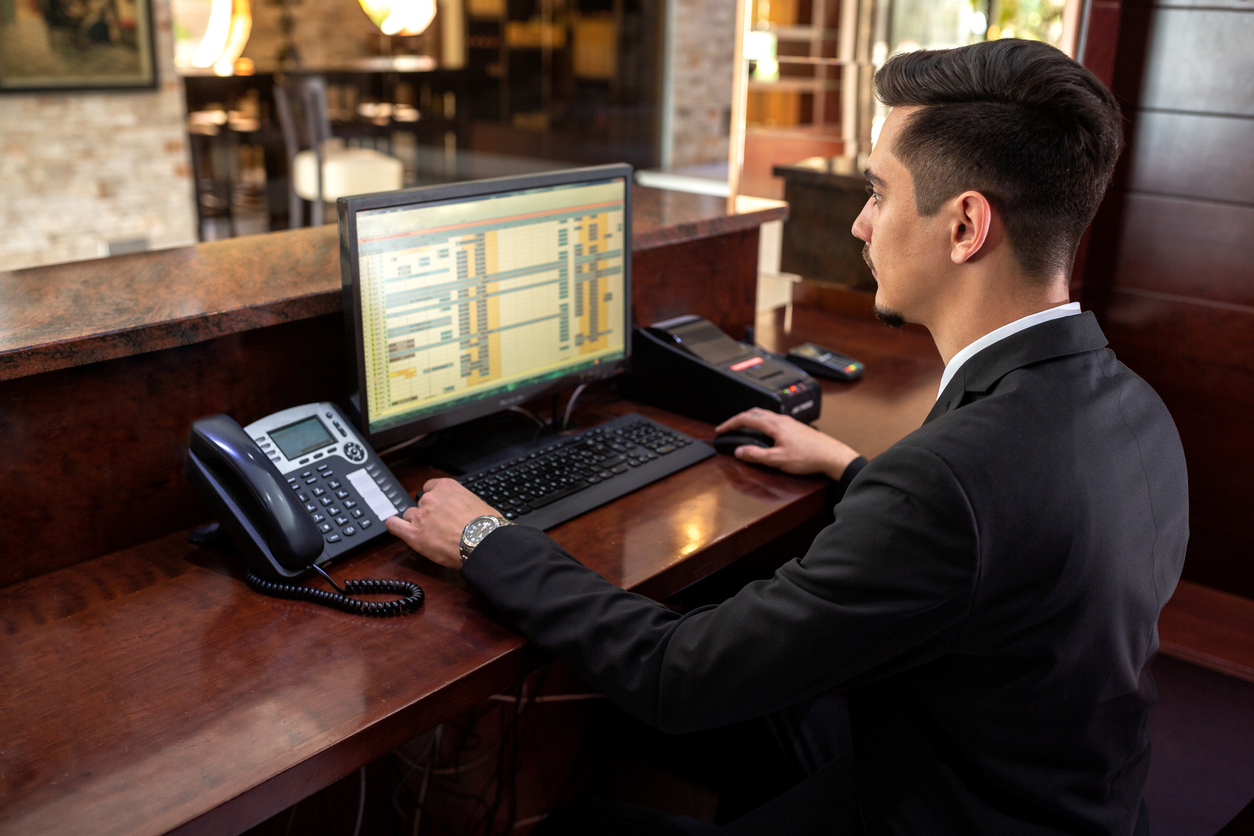 Newsletter Signup
Get Hooked! Sign Up to get the latest catch sent to your inbox.