How to Create an Excellent Pricing Strategy for Hotels
Making sure that "the price is right" can be pretty tough, whether it's a hotel or another business. Unfortunately, an estimated 30 percent of organizations' poor pricing strategies are leading to business failure. That's just one reason why getting pricing strategies right is so important.
Achieving more earnings means you must implement the right hotel pricing strategies to boost your room's profitability. These strategies must be customer-focused to drive more demand and improve your hotel's overall performance.
Choosing the right hotel pricing strategies depends on your hotel's goals, needs, and market fluctuations. This guide talks about different kinds of pricing strategies for hotels and their importance. Plus, we'll also go over how to develop a pricing strategy for hotels that drives revenue and prevents loss.
Why Is a Hotel Pricing Strategy Important in the Hotel Industry?
Understanding the importance of utilizing a hotel pricing strategy means you must also know exactly what these methods are. Pricing strategies are methods you implement to sell your rooms at the right rate for your guests. These methods help your hotel's overall revenue, attracting old and new guests to check out your establishment.
Selling your rooms at the best rates allows you to boost your hotel's occupancy, which in turn leads to an increase in hotel revenue and reputation. Moreover, they are integral parts of your overall hotel revenue management.
A hotel pricing strategy is a sweet spot between two main things:
Charging the right price to make money
Charging a fair price for your customers to remain loyal and not lose them to your competition
Aside from boosting occupancy and profitability, pricing strategies for hotels also prevent you from losing money because of wasteful operational costs. It's how you can sustain and grow your hotel accommodations so that customers will not think twice about rebooking at your hotel.
Hotel strategies for pricing don't only increase your establishment's RevPAR and ADR. They also improve your hotel's accountability, reputation, trust, and profitability.
It's also essential for hoteliers to identify their target market, especially when travelers range from budget-conscious backpackers to vacationers who are prepared to spend more for a room.
Enticing your target niche using the right pricing strategy for hotels can help set your business apart from your competitors. Ultimately, hotel pricing strategies are effective dynamic elements that should be flexible. You must be able to change them quickly according to market changes in your industry.
Factors to Consider When Implementing Hotel Pricing Strategies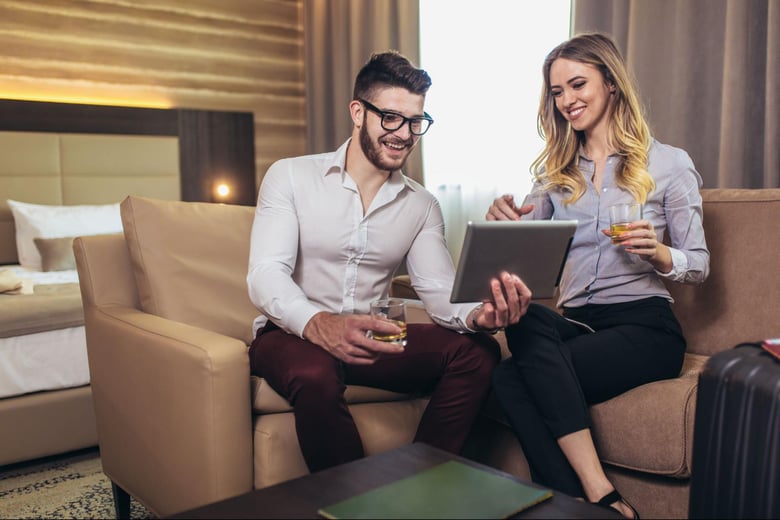 Implementing the right hotel pricing strategy means considering the complexity of factors that can affect how much you price your rooms. Strategies are useless when you don't base them on what your hotel needs and how you can up your game against your competitors.
Some of the most important factors to consider are briefly outlined in the table below, along with a few helpful questions to consider when considering those factors.
| | |
| --- | --- |
| Factor to Consider | Helpful Questions |
| Operating Cost | How much do you need to spend to cover your hotel's operating costs? |
| Demand and Market Structure | What is the current trend in the industry, and how can you utilize it in your pricing strategy? |
| Laws and Regulations Established by the Government | Is the government in your state responsible for managing pricing strategies for hotels? |
| Seasons | When are your hotel's off and peak months? |
| Unanticipated Circumstances | How do you account for sudden changes or fluctuations that must be addressed? |
Operating Costs
Operating costs include expenses that are catered to running and maintaining your hotel. They can range from the following:
Rent and property taxes
Insurance
Hourly wages
Travel agent commissions
Utility costs
You must include all these aspects when considering what pricing strategy for hotels to utilize. This prevents losing revenue which can affect your hotel's performance in the future.
As the owner, you can also control your hotel's operating costs. You must know how much you must spend maintaining your establishment and why these costs are essential. And to help you out, there are certain key performance indicators you must keep track of:
Cost per occupied room (CPOR)

– the average cost of each hotel guest in a guestroom, which includes variable and fixed costs

Cost per available room (CostPAR)

– the average cost of services provided to occupied and unoccupied rooms

Gross operating profit per available room (GOPPAR)

– the average gross operating profit in relation to how many rooms are available

Labor per available room (LPAR)

– how much your hotel's hotel expenses are in relation to the total number of available rooms

Guest Acquisition Costs (GAC)

– a hotel's expenses to generate bookings
Demand and Market Structure
As a hotelier, you must also consider current market structure and demands. Market demands primarily affect room prices, and you must readily adjust the rates to respond to what your customers want.
You must also be aware of changes in your hotel's demands. There will be days when customers won't demand as much, while there are other days when demands are incredibly high. Moreover, you must also consider that different visitor segments can provide different reactions to your price adjustments.
The hotel industry has three main visitor market segments. Each classification has its own needs and demands, and you must be ready to address all their concerns. These are better broken down in the table below.
| | |
| --- | --- |
| Visitor Market Segment | Description |
| Transient | Transient travelers are tourists or guests who book non-negotiated and non-group rates. You will often encounter them booking short stays in small booking windows. Plus, transient travelers can visit your hotel for leisure or business purposes. They can pre-book in advance or be walk-in visitors to your hotel. |
| Group travel | On the other hand, business travelers can either take corporate or local negotiated rates. Corporate rates are room prices agreed between the hotel and the traveler for specified dates for their national business. Locally negotiated rates are prices agreed upon for conferences, annual meetings, union negotiations, and more. |
| Corporate | Group travelers are the largest visitor market segment. They can book several rooms with the coordination of the primary group contact. Plus, group travelers often book their rooms at discounted rates. |
Laws and Regulations Established by the Government
Depending on your hotel's location, you might need to check whether your government is responsible for managing your pricing strategies. These government-imposed regulations should be strictly followed, and you must veer away from unnecessarily raising prices.
For instance, during the pandemic's peak, the government urged hoteliers to transform their establishments into quarantine hotels with the lowest possible rates. This was done to give a chance to workers affected by the pandemic to isolate themselves, preventing harm to their loved ones at home.
Violating these regulations can lead to your hotel's suspension and further inspection, affecting its performance and reputation to your returning clients. Moreover, these can add up to your operating costs, affecting your overall revenue and profitability.
Seasons
One essential consideration as a hotelier is identifying peak and off seasons. These periods should be your basis when pricing room rates and other amenities. Utilizing this factor can also make understanding how seasonal rates work easier.
Seasonal rates are special hotel pricing strategies that hoteliers can leverage to maximize revenue. These are most useful and effective during high-demand periods. Also, understanding seasonal rates can ensure you price your hotels correctly to meet your business and financial goals.
The following are the main benefits of seasonal pricing:
Charging more during peak seasons can increase your revenue.
You can keep your hotel fully booked even during low seasons with discounts.
Maximize your hotel's occupancy level to increase each room's profitability
Serves as a competitive advantage to meet customer demands
Can help maintain guest loyalty and a positive brand image
Unanticipated Circumstances
Uncontrolled variables can range from sudden inflations and natural disasters no one can control, not even you as a hotelier. Therefore, you must be prepared to face these situations without affecting your guests' stay and experience in your hotel.
Moreover, the pricing strategy you choose must withstand these circumstances to avoid the need to change room rates suddenly. Doing this can disappoint your clients, causing them not to return and affecting your brand image.
Revenue Management Solutions That Optimize Pricing 24/7
From upsell opportunities to accurate price management, Luxe Pricing is here to maximize your revenue.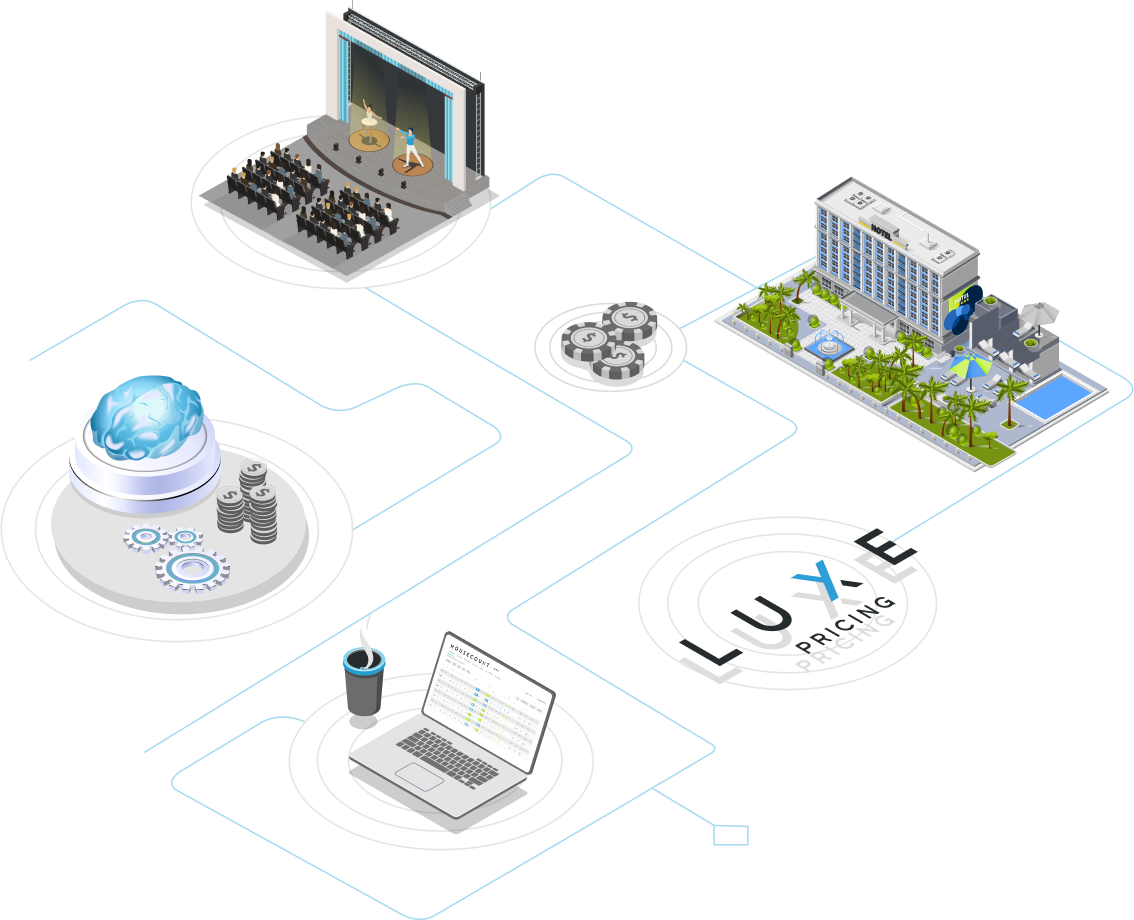 Top 12 Pricing Strategies for Hotels to Increase Revenue
One thing you must know is that no universal pricing strategy for hotels works for everyone. Sometimes, it's often more practical to combine different methods depending on your yield goals, local market trends, targeted demographic, and historical data.
Here are 12 of the most effective hotel pricing strategies that hospitality management professionals can use to help drive revenue.
| | |
| --- | --- |
| Hotel Pricing Strategy | Main Feature |
| Forecasting-based | Relying on historical data to make pricing decisions |
| Demand-based | Ideal when you want to utilize forecasting-based but lack historical data |
| Length of stay | Adjusting prices based on the number of days a guest stays at your hotel |
| Segment-based | Make pricing decisions based on different types of customers |
| Guest type-based | Classifying guests according to more factors than segment-based strategy |
| Occupancy-based | Rates are proportional to your hotel occupancy |
| Incentive-based | Utilizing online marketing strategies to give discounts and promotional deals to customers |
| Flex and Semi-Flex Rate Based | Give guests more options to choose rooms with stricter or more flexible cancellation policies |
| Upselling | Offering room upgrades for additional fees |
| Cross-selling | Works like upselling, but special offers are for other hotel amenities |
| Rate-parity | Providing the same rates across all online channels |
| Cancellation policy based | Different prices have different policies regarding cancellations and asking for refunds |
Forecasting-Based
The most important feature of the forecasting-based strategy is having a reliable set of market and historical data to set better prices for your customers. Forecasting-based pricing strategy works best to achieve a balance between your occupancy and RevPAR maximization.
Forecasting-based strategy means adjusting your room rates based on past and current demands. When there are higher demands, increasing your room rates to maximize revenue is easy.
As mentioned, this strategy will only be effective when your hotel keeps accurate records, including the following:
Average spend per room
Room rates
Occupancy
Past and current revenue
These pieces of information are useful, so it's easier to generate the right prices for your rooms. Moreover, you must also use data from the books, including wider market trends and reservations.
For example, when past data reveals that your hotel has lower demands in January, you can utilize strategic considerations with that information. Why not consider lowering your rates during January to increase demand and occupancy?
Demand-Based
Demand-based pricing refers to setting prices according to travel demand. Like forecasting-based, this strategy also relies on accurate historical data and valuable metrics to help hotel revenue managers track current and past market trends. With the trends generated, you can anticipate and predict future booking patterns for better room rates.
It also helps when you can answer the following questions while utilizing this strategy:
What patterns in demand, booking, and events do you think will repeat?
Do your hotels experience spikes in demand during the holidays?
Is your hotel near universities or colleges?
Can summer break, sporting events, and visitor weekends affect your hotel's demands?
You can also combine the hotel's past performance with your predicted forecasting data to also determine trends in your property's occupancy. Moreover, a demand-based strategy can also help you identify high-demand dates, potential sellouts, and opportunities you can leverage to increase room rates without demand displacement.
Length of Stay
The length of stay strategy identifies room rates based on how many days guests book your hotel. When the demand is more than your supply, you can implement strict rules like requiring guests to stay for a minimum number of nights. In such instances, there's no need to lower your rates.
On the contrary, you can offer deals like encouraging guests to stay for more nights at a lower rate during lower demands. This can lead to fewer unused rooms, increasing your profitability and occupancy.
Segment-Based
Selling your rooms at the right price is not enough. You should also sell them to the correct type of guest. Identifying different guest segments means classifying them according to corporate travelers, transient or backpackers, and groups.
Remember that different guests will have different willingness to pay and stay patterns. For instance, lowering room rates for corporate travelers is the right thing to do, especially when they are committed to staying at several of your rooms.
You can also sell several rooms to various travel agents at more affordable rates. This can enable travel agents to include the rooms in certain travel packages.
Guest Type-Based
Guest-type based pricing strategy works like a segment-based method. You charge higher rates depending on your guests. In this strategy, you can categorize your guests depending on their visiting purposes, preferences, occupation, class, age, and location.
Guest-type based pricing strategy also considers each guest's booking trends so that you know how to make adjustments to ensure your customers will return while maintaining your business's quality.
Analysts report this strategy is one of the most effective methods because it's more customer-based as you study booking trends for each guest to set prices effectively.
Occupancy-based
An occupancy-based pricing strategy is a dynamic process that allows your hotel to maximize occupancy. It's a fact that during low occupancy, you can drop your rates to accept additional reservations. This means that your rates also increase when occupancy increases.
The main goal of this pricing strategy for hotels is to sell out all your rooms in a reasonable amount of time, which is an effective strategy to increase your overall revenue. But you must also remember to adjust your rates depending on demand and supply.
For example, when 45 of your 50 rooms have already been occupied, maybe it's time to charge higher for your remaining rooms. This will help increase your RevPAR and ADR, especially during low-demand seasons. It's also possible to charge less during low seasons.
Incentive-Based
Incentive-based pricing strategy is probably a favorite among guests. Hoteliers distribute incentives to loyal guests in the form of promotions, discounts, and package deals to encourage them to return and rebook.
You can leverage this strategy and use different online marketing tactics to boost your hotel. Distribute promotions to your repeat guests through email marketing, encouraging them to book directly at your website. This can increase the revenue in each booking because no travel agent or go-between is involved.
Flex and Semi-Flex Rate Based
This pricing strategy refers to creating flexible rates for your guests to book rooms for more affordable prices in exchange for stricter cancellation policies.
You can use this strategy to promote dates during the low season and restrict flexible booking during blackout dates and special events. It's also a good way to offer flexible room rates not included in lengthy booking windows.
One way to do this is to establish a system with tiered room rates. You can tie open and flexible cancellation policies to the most expensive rooms. This allows guests who are certain of their travel plans to get more affordable rooms with stricter cancellation policies. On the other hand, doubtful guests can opt for higher-priced rooms with flexible cancellation policies.
It's essential to create a training session with your service staff before implementing this strategy. You must ensure that all your team members know the flex-rate reservations and where they can find the cancellation information.
Upselling
Hotel upselling can help drive additional revenue to your hotel. This strategy revolves around knowing what your guests want and offering products or services that will entice them. Before they complete a booking, you can encourage them to make extra purchases through the following:
Ancillary services like valet laundry and spa services
Hotel packages like bachelorette and anniversaries
Upgraded room options like upgrading a newlywed couple's standard room to a suite
Moreover, market research by iSeatz revealed that more than 70% of business travelers are enticed to purchase core hotel products, including retail sundries, on-site dining, and transportation solutions.
Upselling strategies also work best with current customers than looking for potential customers and converting them to becoming your loyal clients.
One helpful upselling software that hotels can implement is Luxsell URS.This software makes it easy for hoteliers to create offers at good prices for their guests behind the scenes for employees on the front lines to offer with user-friendly software. LuxSell uses a framework called micro experimentation to learn how to optimize prices continuously. Whenever an upsell is processed, the software gains more information to make better and smarter decisions in the future.
Cross-selling
Cross-selling works similarly to the upselling strategy, except that it occurs during post-purchase. After guests are successful in making reservations, hotels can send a follow-up email about additional offers they can avail of and add to their initial booking.
Some of the products or services hotels can cross-sell, include ancillary hotel services, products on-site, nearby tours, and tickets to your location's famous attractions.
Rate-parity
Rate-parity refers to selling your rooms consistently across all your channels—from your direct website to OTAs. This is a strong strategy for communicating well with online travel agencies because they penalize hotels with cheaper rates in other channels by placing your listing lower in search results.
Rate-parity pricing strategy can also maintain your guests' trust in your hotel, maintaining your reputation and overall brand image.
Cancellation policy based
Leveraging your cancellation policies is also a way to drive revenue to your hotel. This strategy works best in high-value hotels with high guest demands, especially during peak seasons. You can charge lower rates with no refund when your guests suddenly cancel or charge higher rates with the option to cancel or reschedule the dates.
Why Hotels Should Avoid Competitor-Based Pricing Strategy
We know that competitors can drive your team to change pricing strategies to remain ahead of them. But it's not always the best strategy. Competitor-based pricing strategy is a tactic that prioritizes competitor prices in adjusting your hotel's room rates.
One way to employ this strategy is to assess your competitors' room types, amenities they offer, cancellation policies, and more. Yes, it can help you gauge the performance of your room prices, but there are far better strategies than competitor-based pricing.
One disadvantage of using a competitive pricing strategy is creating pricing wars that can affect your business's profit margins. It can also drive you to lower your brand's standards to compete constantly in the industry. We know it's exciting initially, but it can get toxic, affecting your overall performance.
You must also understand that a single strategy will not make your hotel the most successful in the field. Consider utilizing other ways to attract new customers and keep old customers aside from focusing on competitor prices.
Competitor-based pricing strategies can also be inaccurate, especially when you're not an expert in estimating product values. This can lead to decreased revenue and profitability. This strategy can also lead to forgetting what your customers want because you are too focused on competing with the hotels within your location.
Steps to Implementing a Pricing Strategy for Hotels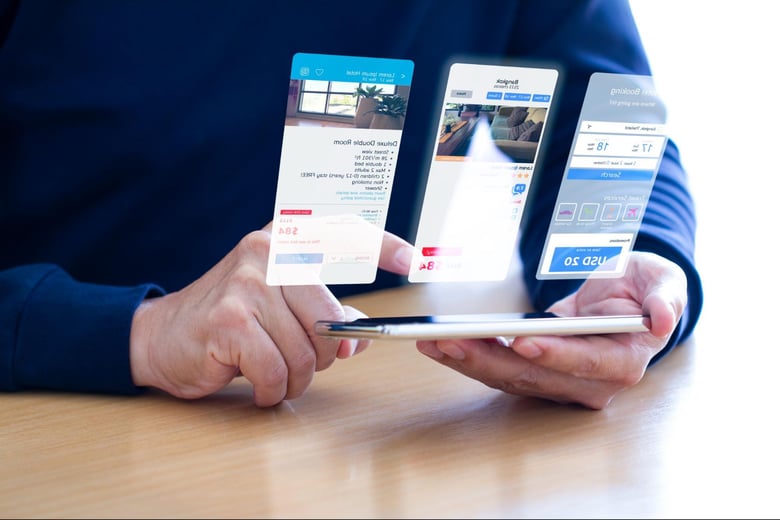 Even when you utilize the most popular pricing strategy, it's useless when you don't know the fundamentals. Successfully employing the right strategy means understanding how to implement the right tactic to satisfy customers and boost your revenue.
Necessary steps you must consider when setting up an effective hotel pricing strategy include:
Knowing your target audience
Understanding the demands of your guests depending on what they want and their purpose of visiting
Analyzing past and current data to identify the best strategy to use
Why Luxe Pricing Is the Best Hotel Pricing Strategy Solution for Your Hotel
Luxe Pricing is more than just a platform that gives you the right pricing strategies for your hotel. It's a company that prioritizes what its clients want and adjusts based on their needs.
Two software offerings that complement each other are offered through Luxe Pricing: HouseCount RMS and LuxSell URS.
Let's face it, the hotel industry has been plagued with inefficient, clunky pricing software that at the end of the day, doesn't produce correct pricing recommendations. So not only are you having to deal with difficult-to-use software, but you're not even getting the benefit that it promises. That's where Luxe Pricing's software comes in.
Built to be user-friendly, HouseCount RMS provides accurate pricing recommendations for hotels and resorts based on the engineering fundamentals of "feedback control theory". This allows the software to provide:
Real-time pricing recommendations
Automatic pricing recommendations (which can be toggled on or off), guaranteeing around-the-clock coverage
Robust inventory type yielding, down to the individual room type or aggregated into larger inventory categories based on client preference
Casino yielding, which sets reinvestment level by player segment (and is fully adjustable)
On the other hand, LuxSell is both a behind-the-scenes and front-of-house upselling solution. Hotels and resorts may have countless options for upsells, so it's important to have software to organize these options and make the right recommendations for each guest. LuxSell uses a framework called micro experimentation to continuously learn every time an upsell is made. This allows front-of-house staff to present the right offer at the right time to the right guest, significantly increasing upselling success.
Conclusion
There's no official rule that prices should be the same for all hotels all-year round. Deciding how much you're setting your rooms depends on several factors you must consider to remain attentive to what your hotel needs and your customers want.
Hotel pricing strategies can only be effective when you leverage combinations and respond to evolving trends. What's more, they can benefit your hotel if you know how and where to start – categorizing and understanding your customers and choosing a pricing strategy that works for them.
One company that can help you create solid pricing strategies for your hotel is LuxePricing. Their revenue management system and upselling software make it easy for hotels to create attractive and value-focused prices on their offerings. Get a demo to learn more about how these tools can help your hotel today.
Revenue Management Solutions That Optimize Pricing 24/7
From upsell opportunities to accurate price management, Luxe Pricing is here to maximize your revenue.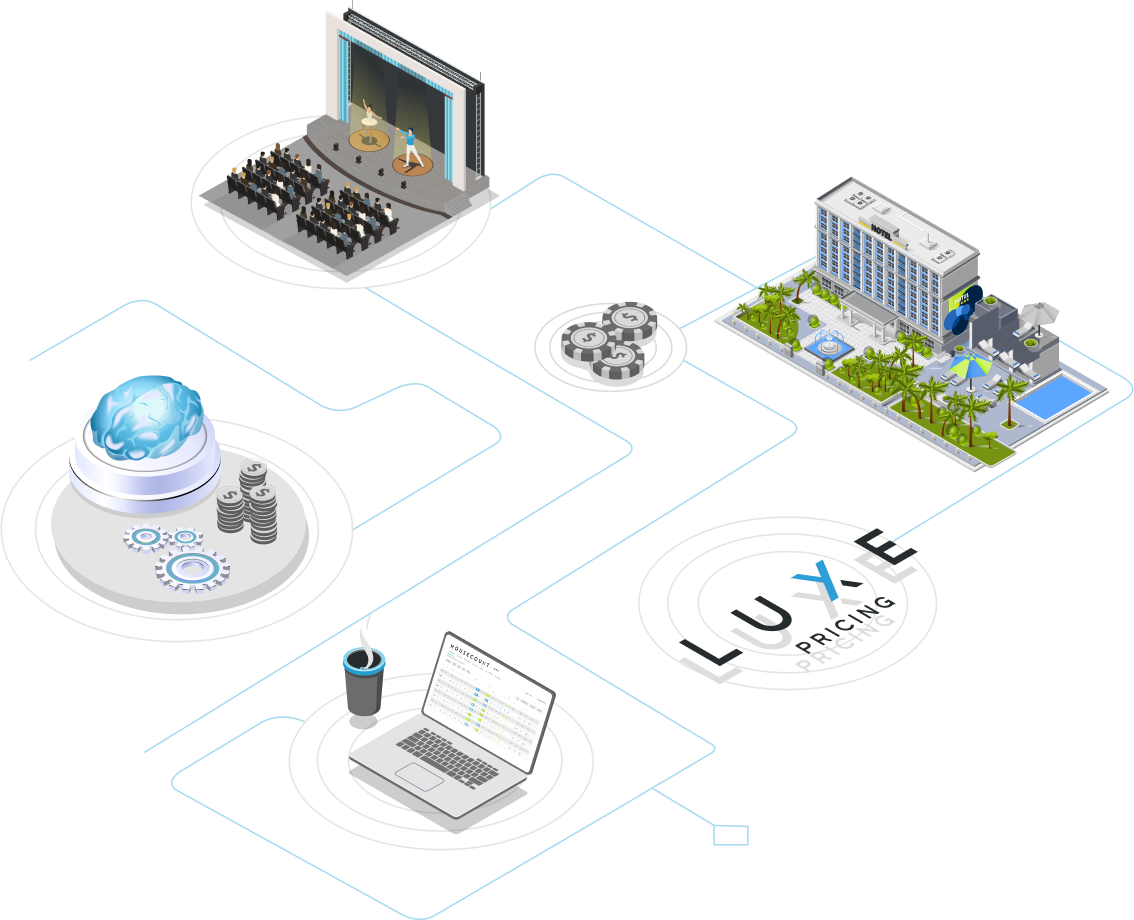 About The Author
Luxe Pricing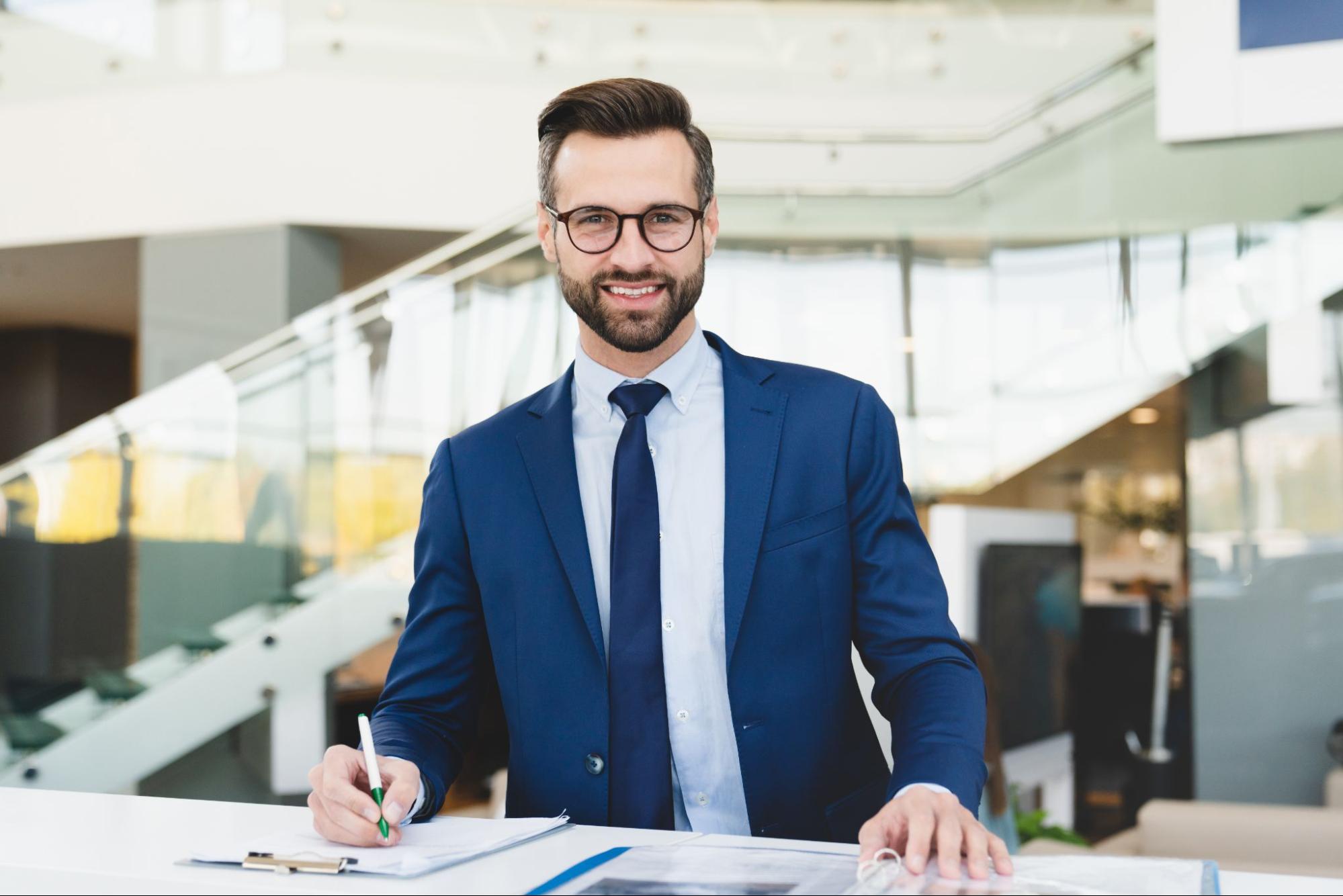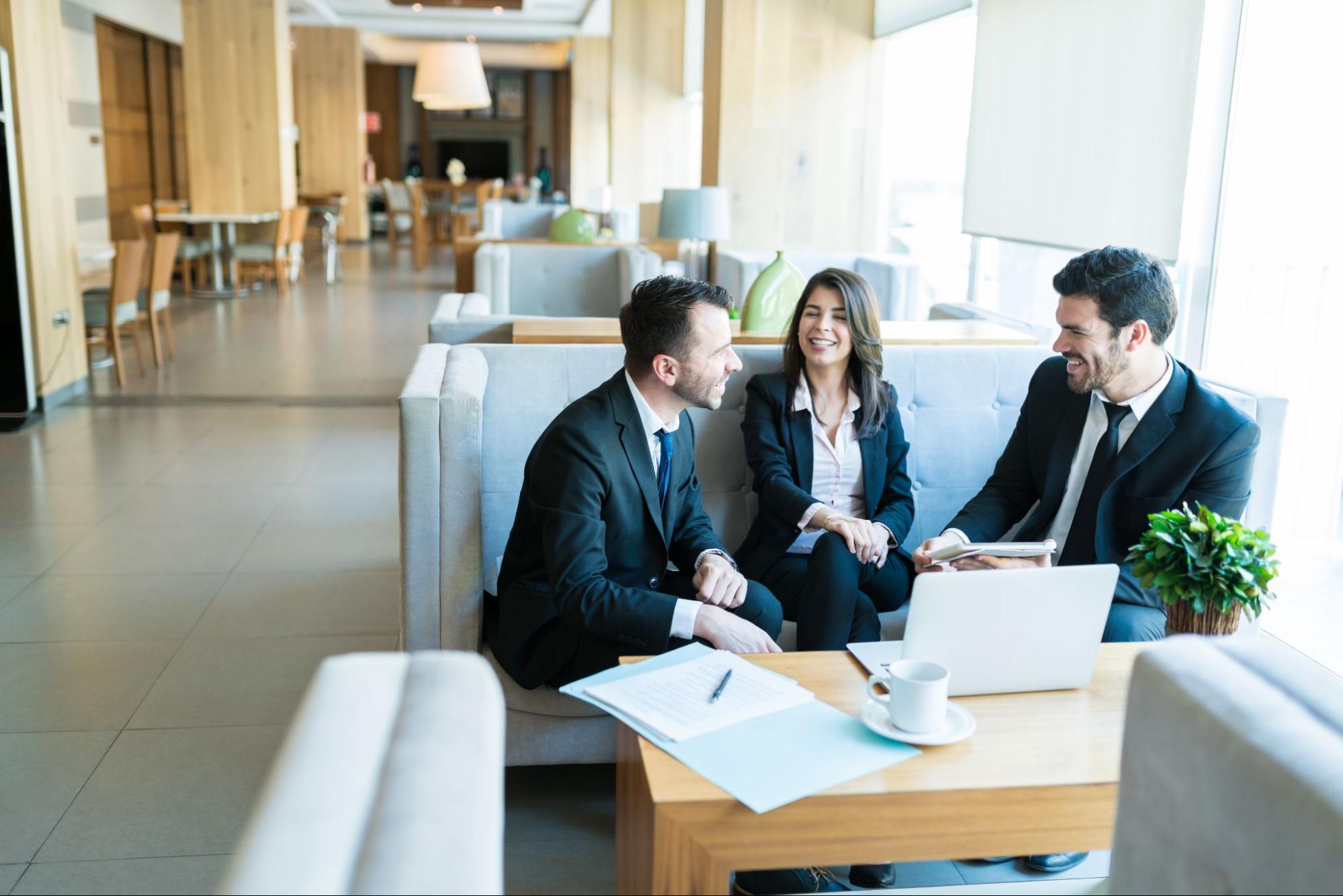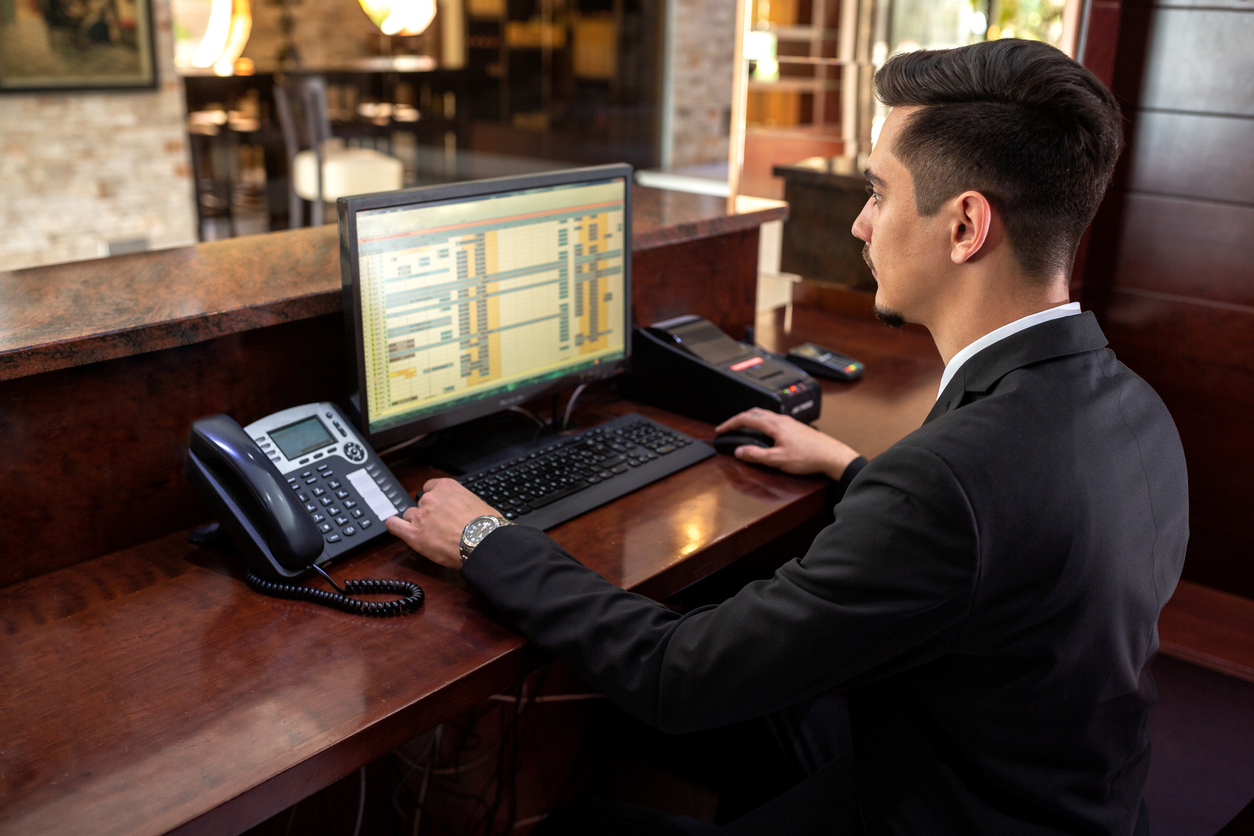 Newsletter Signup
Get Hooked! Sign Up to get the latest catch sent to your inbox.